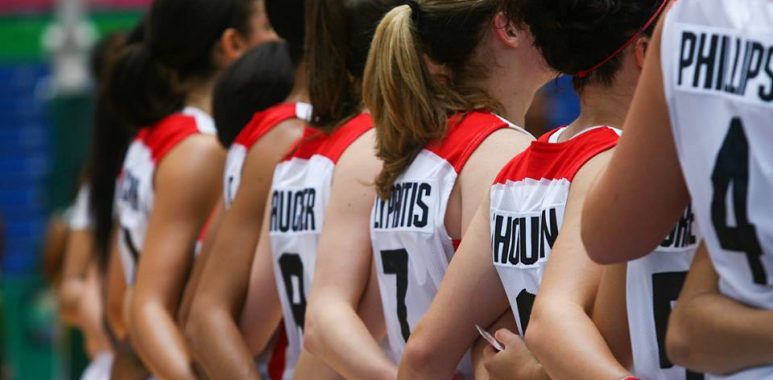 Canadian Womens National Team Fight for FIBA Americas Gold Tonight!
It was supposed to be the start of a golden era for Canada Basketball, but the summer of 2013 will likely be remembered as a false start for the maple leaf.
Andrew Wiggins decided to spend the summer focusing on his upcoming freshman year at Kansas and that decision affected the fates of two separate teams: the Junior Men's team, who never found their footing en route to a 4-5 record and a sixth place finish at U19 World Championships; and the Senior Men's squad, who showed promise but faltered down the stretch at the FIBA Americas dropping their final 3 games and failing to qualify for the next year's World Championships.
However, one of our national teams is living up to the expectations. It's a team that boasts eight former Olympians and a first year head coach; a team whose backcourt features the reigning CIS player of the year and a fearless 17 year old playing well beyond her years; a team that operates in anonymity for most of the year and takes public transit to and from practice; and a team that just might be our best hope for a medal at the next Olympics.
It's our Senior Women's National Team, and we should all be paying attention.
The roster is a great mix of veteran and young players, and it really is a team that can go 12 deep with very little drop off in talent. I had a chance to speak with Coach Thomaidis and the most of the players during training camp in Edmonton, so in advance of today's FIBA Americas gold medal game let's get to know Canada's Senior Women's National Team, in their own words.
THE STARTING FIVE
Kim Gaucher (6-1 G/F Mission, British Columbia)
-Lisa Thomaidis: "Our leader. Our best player at the Olympics. She's a tremendous shooter, has a great understanding of the game, excellent vision. There's not much she can't do."
– In her own words: "known by most as a smart player, I'm by no means athletic, but I can read the game very well. My favourite thing to do is cut. To get in the paint and back cut and elude defenders."
Courtnay Pilypaitis (6-1 G Orleans, Ontario)
– LT: "Great basketball IQ. She's a taller, longer guard that can stretch defenses with her ability to shoot the deep three."
– In her own words: "I'm a shooter, and that's what I like to do. I feel like I can bring a steady influence to the team when I'm in the right spot and know what to do to get us going if we are stalling."
Kia Nurse (6-0 G Hamilton, Ontario)
– LT: "Exceptional athlete. She can really put pressure on the ball, doesn't get beat off the dribble. Her strength for us offensively is in transition; she can get from one end to the other and she can draw a lot of fouls."
– In her own words: "I'm more of a point guard who uses speed to her advantage. Defensively, I'm pretty much a pest. I like to annoy people, it gives me a rush."
Miranda Ayim (6-3 F London, Ontario)
– LT: "A tremendous athlete. She can score inside, she can take it to the rim, she's got a good midrange jump shot. Her best asset is her defense; she can really lock people down with her length and mobility at the 4 or the 5 spot."
– In her own words: "I bring speed to the post position. I like to attack, usually baseline or from the high post, and I like to get out and run."
Tamara Tatham (6-1 F Brampton, Ontario)
– LT: "A dynamic stretch four. She's as quick as they come at the four position and she's a great defender also. For a number of games this year she's been our best player."
– In her own words: "I've always been an energy player for this team. I've worked on my shot and it's given me more confidence and the fact that I'm more comfortable on the outside gives me more confidence in the game."
OFF THE BENCH
Justine Colley (5-9 G East Preston, Nova Scotia)
– LT: "A dynamic scoring guard. She's really brought something to this team with her ability to break people down off the dribble. She can hit the deep three, create for her teammates and can guard the ball too. She's really brought a lot of athleticism to our backcourt."
– In her own words:  "With this team I get to come off the bench, which is really refreshing, it's a new role for me. I like coming in with energy and trying to pick up the tempo."
Natalie Achonwa (6-4 F Guelph, Ontario)
– LT: "Very dynamic at the four or five. She has lots of international experience and she's such a gamer, just a real tough competitor who works well under pressure."
Lizanne Murphy (6-1 F Beaconsfield, Quebec)
– LT: "Tough. She can do a bit of everything; she can take people off the dribble, she'll knock down open shots, she's really tough on the boards and on the defensive end."
– In her own words: "I'm the player that kind of does everything. I bring the energy, and when I'm fired up I can get everybody fired up."
Shona Thorburn (5-10 G Hamilton, ON)
– LT: "Great knowledge of the game and a tremendous leader. She's a pass first point guard who knows where people are open and how to get them the ball."
– In her own words: "I like to create and get my teammates open. We have an intelligent team which makes my job a lot easier because when I penetrate I know exactly where they are going to be, because they are all where they should be."
Kendel Ross (6-1 F Sarnia, ON)
– LT: "The ultimate team player. She just doesn't make mistakes. She's never going to miss a defensive assignment, she's never going to miss a box out and if she's left open she can knock down the three."
– In her own words: "I definitely like to shoot the ball, when I'm open I feel like that's my opportunity to put it up. I like to try and do all the little things. If the coaches need something that's what I focus on. Whether it's getting boards or defending or doing anything like that."
Krista Phillips (6-6 C Saskatoon, Saskatchewan)
– LT: "A great presence inside. She distributes the ball well from the high post, and when she gets the ball inside she's tough to guard."
Kalisha Keane (6-1 F Ajax, Ontario)
– LT: "A stretch four. She has great range on her three and really good vision. It's great to have her here, she brings good understanding and good experience to our front court."
– In her own words: "I can create mismatches and stretch defenses. I think my gift is the ability to pass the ball as a four, that's how I view my role: to create for others and, when I am given the opportunity, to knock down open shots for our team."
***
After steamrolling through their first five games, and having already clinched a spot in next year's FIBA World Championships, Canada faces Cuba for a shot at a perfect 6-0 record, a FIBA Americas gold medal and an improved seed in the 2014 World Championship.
The Canadians play an exciting brand of basketball and are an easy group to root for. Throughout camp they spoke of the pride they take in representing Canada, and how bitterly disappointing it was to leave London without a medal.
So on Saturday night take some time and get to know this team. Whether they win or lose, share in that victory or defeat, because chances are you'll be seeing a lot of these same faces in 2016 and when they are fighting for a medal in Rio, you'll be thankful you came along for the ride.
You can watch the FIBA Americas Gold Medal game against Cuba at 9 PM on Sportsnet 360.