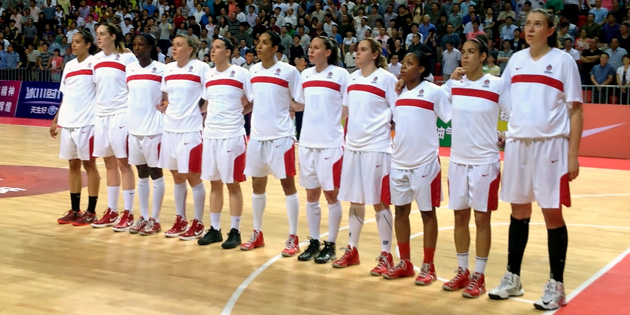 Senior Women's National Team Training Camp Report
EDMONTON, AB – With the 2013 FIBA Americas set to tip off on Saturday September 21st, Canada's Senior Women's National Team (SWNT) descended on Edmonton for a five-day training camp and a final round of cuts.
When the team arrived at the University of Alberta's Saville Centre on Friday morning the roster stood at 15. After two players were let go over the weekend, one final roster decision must be made before the team heads to Mexico for competition.
The current 13 player roster will be familiar to those who followed the London Olympics as it features eight players from the 2012 games. Newcomers Kendel Ross, Kalisha Keane, Krysten Boogaard, reigning CIS Player of the Year Justine Colley, and 17 year old phenom Kia Nurse round out the squad.
Highly decorated CIS coach Lisa Thomaidis takes over the head coaching duties after 11 years as an assistant under Allison McNeill, and is joined on the bench by Bev Smith and Shawnee Harle. Ryerson University video co-ordinator Dipesh Mistry serves the newly-created Performance Analyst role, and brings expertise to a program that has clearly embraced technology and analytics.
In the days leading up to the FIBA Americas Tournament, NPH will take a closer look at the team, the staff and the tournament itself. In the meantime be sure to check out the official site xalpa2013.com and follow the team via the Canada Basketball site
Current Roster (1 cut to be made)
Cuts: Alisha Tatham, Nirra Fields
Pos

First Name

Last Name

Height

School

Province

CBB Experience

PF

Natalie

Achonwa

6'3″

Notre Dame

NCAA

ON

4

PF

Miranda

Ayim

6'3″

Pepperdine

NCAA

ON

7

C

Krysten

Boogaard

6'6″

Kansas

NCAA

SK

2

SG

Justine

Colley

5'9″

St Mary's

CIS

NS

4

SF

Kalisha

Keane

6'1″

Michigan St

NCAA

ON

4

SF

Lizanne

Murphy

6'1″

Hofstra

NCAA

QC

6

SG

Kia

Nurse

6'0″

STM SS

HS

ON

2

C

Krista

Phillips

6'6″

Michigan

NCAA

SK

5

SG

Courtnay

Pilypatis

6'1″

Vermont

NCAA

ON

5

SF

Kendel

Ross

6'1″

Dayton

NCAA

ON

6

SF

Kim

Smith

6'1″

Utah

NCAA

BC

10

SG

Tamara

Tatham

5'11"

UMASS

NCAA

ON

7

PG

Shona

Thorburn

5'10"

Utah

NCAA

ON

7
Schedule of Preliminary Round Games
9/22 – vs Jamaica
9/23 – vs Chile
9/24 – vs Venezuela
9/25 – vs Cuba