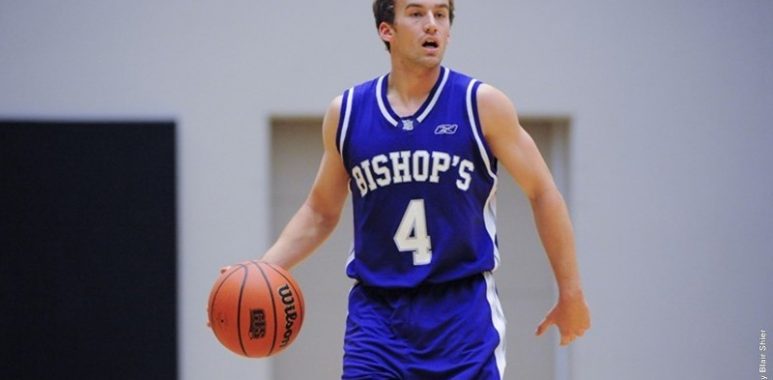 NPH CIS Team Preview: Bishop's Gaiters
Last season
| | | | | | | | |
| --- | --- | --- | --- | --- | --- | --- | --- |
| Overall | Pct. | Conf. | Pct. | Streak | Home | Away | Neutral |
| 10-6 | .625 | 10-6 | .625 | Lost 2 | 6-2 | 4-4 | 0-0 |
Head coach: Rod Gilpin
Assistant coaches: Dan Pfilger, Mike Lasme, Steve Dunn, Mohammed Ouenzar, Etienne Labreque
2012-2013 Record: 10-6 (RSEQ)
Key players: Jeremy Leonard-Smith, Mike Andrews, Matt McLean, Onnex Blackwood, Jona Bermillo
Incoming players:
Sage Holder
Carl Nicolae
Kurt Caro
Dave Belanger
Chris Henry
Simon Bernard
Jaleel Webb
Departures: Tim Hunter, Patrik Kabongo, Jamil Abiad, Ridolphe Aristil, Jonathan Goyette, Shawn McAlpine, Ryan Foster
SHERBROOKE, QUE—The Bishop's Gaiters are loaded. They return just about every key contributor to a squad that went 10-6 in the RSEQ a year ago, finished second in its conference and came to within three points of going to Ottawa for the CIS Final 8. "I'm excited about our team," head coach Rod Gilpin says. "I think we have good team chemistry."
In 2013-2014, head coach Rod Gilpin has dreams of excellence, and he just might have the team to fulfill them. "We return six of our top seven guys," Gilpin says. "I think we should be better than we were last year."
Bishop's expects to make the trip to the nation's capital, and that's why they've scheduled nine difficult out-of-conference games—on the slate are bouts against three teams who played in the Final 8 last year in the Victoria Vikes, Lakehead Thunderwolves and Carleton Ravens. "We probably play the toughest non-conference schedule of anybody in the country," Gilpin says. "Our ultimate goal is to be in Ottawa in March, and we want to be in a situation where we've had the chance to face as many of those types of teams as possible before we get there."
The head coach takes a few moments to marvel at the three-time defending champion Ravens. "Carleton, especially in August, was at a totally different level than everyone else in Canada," Gilpin says. "Every time you play them and you prepare for them, you learn a lot more about your own team and what you need to get better at… They're the measuring stick right now in the CIS."
The Ravens, of course, came oh so close in August to beating the Syracuse Orange, a Final Four team from the 2013 NCAA March Madness. By comparison, head coach Jim Boeheim's squad rolled the Gaiters 77-35 but Gilpin thinks comparing his squad to the Ravens at this point is like comparing apples to oranges. "We weren't ready to play them after one week of practice," he says.
Another reason for this out-of-conference schedule is the fact that once the regular season starts, the Gaiters will play the four teams of the RSEQ, four times each. But Gilpin sees this as a blessing, not an affliction. "It's a very physical league. It's obviously a competitive league, and there are obviously very intense rivalries," he says. "There's not a lot of love lost between teams."
Every team knows the other well by the end of the season, and this shifts the focus in preparation. "It gets to a point of the season where you have a good idea of what the other teams are doing," Gilpin says, "and it's less about scheming and preparing for them and more about doing everything you can to make your own team better."
Opponents would still be remiss not to focus on some of the things that the Gaiters do well, however. The team has great size, especially with the addition of Frenchman Majid Naji, who is in his third year of eligibility and stands six-foot-11. Naji should combine with seniors Mike Andrews (six-foot-10) and Matt McLean (six-foot-nine) to form a formidable frontcourt.
With all this size, Gilpin wants his team to be better at rebounding, which he says was "average" last year. The coach intends to have a better shooting team too, which should only help the three-tall-headed monster in the frontcourt.
Gilpin says that Bishop's has good depth and wing defense too. But its biggest advantage might be a right mix of experience and youth. Gilpin can rely on a great group of veterans to show the way, a group of veterans who have a proven track record of production and successes. Meanwhile, the youth can be brought along, infusing energy and production when needed. "We expect (Dave) Belanger and (Kurt) Caro to have an opportunity to play right away," Gilpin says.
Among the older players, the head coach singles out Andrews, senior guard Scott Ring, fifth-year forward Jeremy Leonard-Smith and McLean. He also has high hopes for fifth-year guard Onnex Blackwood. "(Blackwood) was a league all-star in his first year," Gilpin says, "and we're hoping that he can have a big fifth year."
And if he does, then Bishop's might go back to the nationals and avoid the same fate as last year. What a difference a year could make.
Follow Charles Blouin-Gascon on Twitter @RealCBG & NPH @Northpolehoops