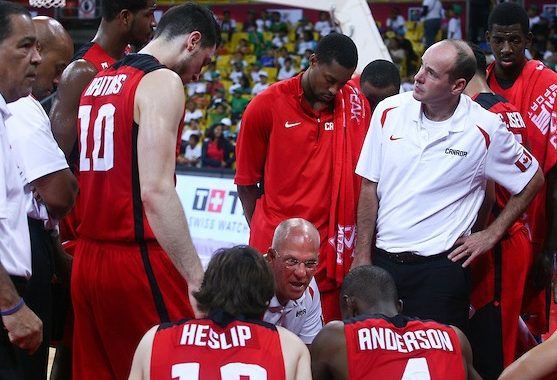 Senior Team Canada
Team Canada
Team Canada: Accountability.
Before I get down to the nitty gritty…thank you to the 12 men that represented Canada in Venezuela with pride and dignity, and a special thanks to the veterans, who in some cases, could have worn the Team Canada jersey for their final time.
Now, lets do this.
I would like to make it very clear that what happened at the FIBA Americas tournament was a major disappointment for the Canadian national program, and there's no other way around it. The players know it, the coaches know it, and Canada Basketball as an organization knows it.
Yes, Canada has a boatload of exciting talent to choose from in the coming years, but that was already understood entering the World Cup qualifier in Venezuela. We already know that guys like Wiggins, Bennett, Olynyk, Stauskas and others will naturally elevate our national program in more ways than one.
However, with Canada being eliminated out of the FIBA Americas, and not finishing in the top four, Wiggins and co. will not have the opportunity to compete in the world cup in Spain next summer…unless of course, Canada was to be selected by FIBA as a wildcard, which is to be announced in December.
Why was the FIBA Americas a disappointment?
Canada With Most Talent in Tournament
There is a total of eight NBA players in entire FIBA Americas tournament…four of them wore a Team Canada jersey.
Andrew Nicholson. Cory Joseph. Tristan Thompson. Joel Anthony.
That's four NBA players to go along with a solid supporting cast, combined with veteran leadership and sharpshooting abilities. Canada's best players are young, but undoubtedly talented.
Joseph [16.1 PPG] and Nicholson [15 PPG] ranked fifth and sixth at FIBA Americas in scoring, while Thompson [10 RPG] was second in rebounding.
In addition, Joseph was second in the tournament in assists [4.4 APG].
In the three-point department, Canada's long range specialist Brady Heslip not only made the second most three-pointers in the tournament [tied at 17], but also ranked fourth in three-point percentage while shooting a blistering 51.8% from behind the arch.
In other words, Canada had a player in the top five, in every major statistical category–the only team in the entire tournament that can own that statement.
Talent was not an issue.
Lack of Experience Not Valid
Ultimately, the twelve men that represented Canada at the FIBA Americas were hand selected, following a three-week camp before first competition at the Tuto Marchand Cup. The Canada Basketball front office, along with the coaching staff wisely selected a mixture of veteran personnel and young talent, knowing that experience would be invaluable in a tournament such as the FIBA Americas.
One approach could have been 'going young' and selecting an entire new crop from the never ending talent coming up, which in that case would've lacked experience–an experiment that would have been a building block for the future.
However, Canada chose a roster that possessed a combined 35 years of senior mens international experience with Team Canada.
The best players on the team are young with Andrew Nicholson (23 years old), Cory Joseph (22) and Tristan Thompson (22), but the surrounding personnel, generally well-seasoned.
Lack of experience was not an issue.
Utilizing the Bench
With eight games in ten days, even the most elite athletes will naturally begin feeling fatigue.
Canada lost the last three games of the FIBA Americas, after starting 3-1. There is a direct correlation between the 0-3 finish, and energy levels of each player. I was shocked to see players benched for virtually the entire tournament, especially Jevohn Shepherd, who brings international experience, athleticism on the wing, and defensive abilities on the perimeter–an area that is sorely missed on this team.
The bottom line is, if a player has been selected to the Canadian national team, it means they have the aptitude and talent to contribute. No player on the national team, in my opinion, should be benched throughout an eight game tournament within ten days.
Canada held big leads throughout the tournament…and even in the losses, all games were winnable. There were stretches where the bench could have been utilized; including players like Shepherd, Junior Cadougan and Devoe Joseph to conserve energy of the front line troops.
Building a Winning Culture
There is a lot riding on Canada's success (or lack thereof) on the international stage. A lot of eyes are watching, both from a corporate standpoint as well as the general public. The question I've recently heard from the casual viewer is, 'why are we investing tax dollars into basketball?' The casual fan is also unaware of the talent that lies ahead.
Regardless, these are not the questions that any basketball person in Canada wants to hear. We, as a country NEED to move forward; we can no longer underachieve, settle for less and shrug it off when we lose, banking on the future talent to come to the rescue.
A winning mentality must take shape, before we ever obtain international success.
The FIBA Americas tournament was an opportunity to qualify for the 2014 World championships next summer; Canada had enough talent and experience to get the job done.
Trust and belief has to be placed in some of the leading figures in Canadian basketball, like Jay Triano & Steve Nash, with their pedigree, knowledge and experience. It was the first shot with a new group that came up short.
It's not a time to panic, however there must be a sense of urgency from players, coaches, media, fans and Canada basketball as an organization.
With this being said, changes need to be made.
Talent levels are calling for a change in the system, but the system has yet to respond, unable to accommodate the amount of thriving prospects on the scene.
On a Positive Note
While everything you just read may sound negative, there is a lot for Canadian basketball fans to look forward to. As mentioned, there is an uprise in talent that is about to kick through the door, but as for the FIBA Americas tournament specifically, we learned a lot about the talent that was at our disposal.
The Individual Growth of:
Cory Joseph – Will CJ be the point guard of the future for Canada? He definitely made a major step in the right direction, from an experience perspective, and being put in the position of being "The Guy" as a lead guard.
Andrew Nicholson – Had his ups and downs, frustrated with foul trouble, but will make his adjustments and evolve, as he has done every single year I have tracked him for over the last six years.
Tristan Thompson- A treat to watch, relentless effort, instant double-double guy that will only improve skill set. Remarkable improvements in shooting stroke highlighted by free throw percentage of nearly 80%, in comparison to last season's 60% with the Cleveland Cavalier
Can we build on these positives? Of course…but not without accountability across the board.
The talent is undeniable…the question is, what will Canada basketball do with it?