Live by the Three, Die By The Three: Canada Drops to Home Team Venezuela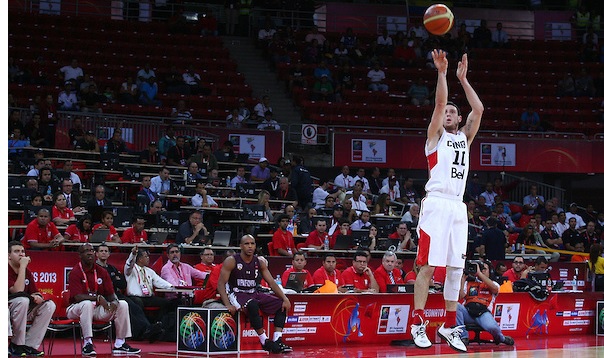 After an incredible shooting night (57%) from the three point line against Mexico, Canada shot an ice cold 16% against the home team Venezuela, losing 64-59.
Multiple story lines can be taken from this game, starting with a lack of mental discipline in the first quarter.
Andrew Nicholson Foul Trouble
Nicholson, who has been consistent for Canada through both the Tuto Marchand Cup and the FIBA Americas, has also been struggling with foul trouble.
In the first quarter, the 6'9 forward was called for his second foul, and reacted by slamming the ball on the floor, ultimately called for the technical. In FIBA basketball, technical fouls are also charged as personal fouls, giving Nicholson three strikes in the first quarter.
"He's one of our better players and leading scorers. To have him not playing in this game, that hurt us for sure. We are a very young team, and their [Venezuela] experience showed today," Canada Head Coach Jay Triano told Spanish media, following the game, referring to Nicholson's foul trouble.
This game was a learning experience for Nicholson, as the whole tournament has been; he must learn to control his emotions as he is too valuable, being the most offensively skilled player on Team Canada.
Tristan Thompson's Effort
Tristan Thompson never gives up. Never. Thompson should be applauded for his relentless effort as he kept Canada in the game, and helped fuel a late fourth quarter run. Thompson makes a living off his motor, and it was truly inspiring to watch as he battled for every rebound.
Tristan Thompson stat line – 12 points, 20 rebounds, 3 assists
Venezuela Defense
Canada shot poorly (33% FG), but credit must be given to the defence, something Coach Triano did in the post game stating, "this is the best defensive team we've seen thus far."
On the flip side, Canada was solid defensively holding VEN to 36% from the field.
"This tournament is more than one game, and we have to find a way to bounce back," said Triano.
With the loss, Canada is now tied with Venezuela in the standings, both holding a 3-2 record.
NPH Top Performers
Tristan Thompson – 12 points, 20 rebounds, 3 assists

Cory Joseph – 14 points, 4 rebounds
Aaron Doornekamp – 6 points, 10 rebounds, 3 assists