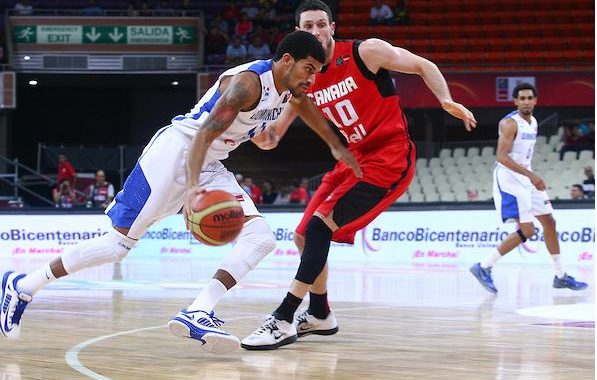 Canada Goes Down To Dominicana Risking Elimination
It's never a good situation when your destiny lies in the hands of another team. In a tie breaker against the Dominican Republic, Canada was not able to make enough stops to come out with a victory. Now they've put themselves in a must win situation against Argentina to give themselves the best chance at qualifying for 2014 World Championships in Spain. Dominicana was able to finish down the stretch and pull out the W 81-74, leaving the Canadian squad "devastated," as Head Coach Jay Triano described the feelings in the locker room.
The Dominican Republic shot a blistering 50% from the field while going 50% from three point land. Led by the play making of James Feldeine and the Houston Rocket forward, Francisco Garcia who finished with 20 and 17 points respectively.
Andrew Nicholson got off to a hot start to silence the critics that arose after Canada's loss to Venezula, where Nicholson had lost his composure and fouled out of the game. The Orlando Magic's versatile big man continued to exhibit two major elements; versatility and efficiency. Low post up and unders, three point shooting and a sound face up game, Nicholson has it all and displays it all.
He finished with 29 points and 4 rebounds. There was simply no on from the Dominican that could defend his post game or his recently signatured pump fake and drive from the perimeter.
Canada's offense flowed better than it had in their previous game as a result of Andrew Nicholson's presence. With him on the floor as a primary scoring option, this opened up for guards to squeek by for a drop pass or a kick out from the big man for a three. All of this wasn't enough.
Even though the red and white shot 50% on the night, they struggled from long range, going 7-21. Offense wasn't the issue at the end of the game; it was Canada's inability to defend the Dominican guards off the dribble and get up on shooters quick enough.
Credit has to be given to the Dominican's fluid ball movement and the ball handling and speed of Edgar Sosa, a former Louisville Cardinal who later had NBA opportunities in the summer league with the Detroit Pistons. Sosa has a lightning quick first step that was able to beat Canadian guards off the dribble and force a foul.
At 1:30 pm ET Canada will take on another challenge against Argentina in a must win match. If the whole team comes out with similar defensive efforts as that of Tristan Thompson, then there is a good chance to come out with a victory. If Argentina was watching the game between Canada and Dominicana then they will be looking to deny Andrew Nicholson the ball all game.
Regardless, Canada will need a full team effort to get this W.
For full details on qualification scenarios, please click here