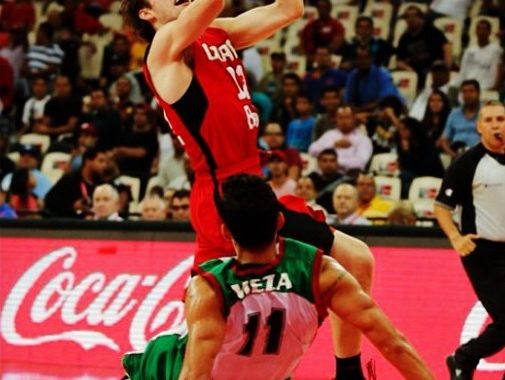 Senior Team Canada
Team Canada
Brady Heslip, Andy Rautins Heat Up Putting Canada Past Mexico
With a big win over Mexico 89-67, Canada is catching steam.
The hot three-point shooting of the team lifted the red & white, as Brady Heslip poured in a game-high 21 points, while Andy Rautins and Cory Joseph added 19 & 17 respectively–combined for a ridiculous 63% from behind the arch (12/19).
After being asked about the difference between this Canada team now, and the one two weeks ago, Heslip told NPH, "our defence and coming together as a team, playing with each other and believing!"
The victory gives Canada a 4-1 record at FIBA Americas with wins over Jamaica, Uruguay, Brazil and now Mexico; the only loss being to undefeated Puerto Rico.
Canada pulled away from Mexico in the fourth quarter with their aforementioned three-point shooting, after controlling the majority of the game.
Corey Joseph, who has long been known primarily for his great defensive instincts and leadership qualities at the point; showed his shooting efficiency, going 50% from the field, including 3-5 from deep.
Shades of Tony Parker were seen from the young Canadian point guard, as he turned each corner and attacked the bucket. With the NBA season approaching, look for CJ for to gain more minutes, giving Parker time to rest, at 31 years of age and going on his 13th year in the league.
Andrew Nicholson was in rhythm early on but was pulled off by Coach Triano due to early foul trouble – something he's been battling with throughout the tournament. However, Nicholson has been extremely efficient in whatever amount of minutes the coaching staff has given him.
Nicholson finished with 13 points and three rebounds in close to 15 minutes of play. As a team, Canada shot 57% from beyond the arc and Mississauga's big man didn't hurt these numbers. He forced Mexico's big man Gustavo Ayon to come out at him and then used a nifty up-fake and went against the defender's momentum to put the ball on the deck and finish with a floater — very impressive at 6'9.
Although there were many players on the Canadian roster that had a successful scoring nights, there were many mistakes made on the offensive end when pressured full court. Canada finished with 15 turn overs, many coming when they were trapped on the wing in the second half. Shooters on the wing have to recognize the trap early and move over to help ball handlers.
On the defensive side of the ball, Canada's coaching staff has done a great job of helping players understand when to fill the lane with red and white jerseys and how to take away scoring angles. Clogging the lane with Canadians helped take away second chances for Mexico.
Mexico's Orlando Mendez on most possessions didn't need a second chance and was the main producer for the Mexicans finishing with 23 points.
Tristan Thompson was very active on the glass and was an engine for the team Canada as he has been all tournament. Thompson led the team in rebounding snatching 12 boards, providing Canada with extra possessions.
The Canucks ran away with the game after Heslip went for three consecutive makes from long range. He and Andy Rautins ultimately sealed the deal with their sharp shooting.
Canada will play Venezuela today at 5:15 PM ET, on Sportsnet 360.
NPH Top Performers
Brady Heslip – 21 points, 3 rebounds

Cory Joseph – 17 points, 8 rebounds, 6 assists
Andy Rautins – 19 points, 3 rebounds, 3 assists, 2 steals