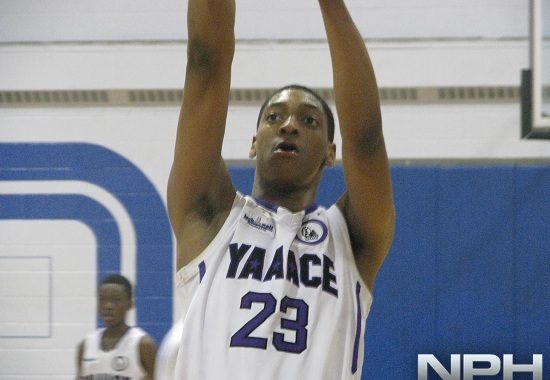 Justin Jackson Joining Findlay Prep Pilots, Major Pick up for Jerome 'JYD' Williams
TORONTO, ON–The move was inevitable for Justin Jackson, the time has come where he needs to face new challenges and competition on a daily basis. It came down to two schools, Findlay Prep and Huntington Prep.
The 6'7 guard will play under newly named Head Coach Jerome 'Junk Yard Dog' Williams, former Toronto Raptor and fan favourite in Canada.
Jackson decided to follow a path that has evidently been a formula for success for other "leafers" that attended Findlay. He joins a list of Canadians including current NBA guys Tristan Thompson, Corey Joseph and Anthony Bennett, who were once putting in work in the heat of Henderson, Nevada.
After a monster season on the AAU circuit with YAAACE, Toronto's 2016 five star guard leaves Canadian power house Eastern Commerce Saints of Toronto to join America's basketball factory.
"They have a winning history, a solid history with Canadians, they have been able to create pros in their system and most of all their sense of family," Jackson told NPH.
Moreover, it plays to an advantage that other Toronto family in the likes of two guards, Dillon Brooks and Jalen Poyser will also be at Findlay for the 2013-2014 season.
"They're both good friends of mine and I can see good chemistry on and off the court in our futures."
Jackson had a phenomenal summer, breaking out of his shell and taking on a full time leadership role of a young squad. While present at a majority of YAAACE's tournament games this summer, there was one NCAA coach who had attended just as many games.
Dustin Ford, Assistant Coach of Illinois sported his bright orange and blue and got a front row seat to see what he called, "The Real Deal."
Illinois and Indiana would go on to be the first to offer Jackson, but many more will come as the 6'7 guard has every intention of making his initial improvements by adding muscle mass as soon as he steps into Findlay.
Jackson possesses a unique blend of size and skill, with his pin-point vision and unselfishness being the distinguishing elements of his game.
His play making ability has been respectfully compared to that of Magic Johnson and Scottie Pippen, Some may call this blasphemy and say that it's farfetched, but that's only until they see Jackson in action.
[youtube]Dy6qjQWgR0Y[/youtube]
Here is last summers NPH Mixtape of Jackson.