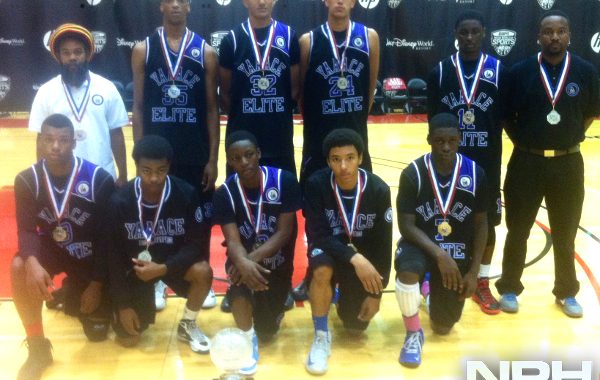 YAAACE Reaches AAU Super Showcase Championship, Fall to King James Shooting Stars
ORLANDO,FLA–When YAAACE left Toronto en route to Orlando, the goal was straight-forward; handle business and bring the ship' back to the Dot.
Close, but no cigar. The talented 2016 group reached the championship against an uber-athletic King James team, however were unable to counter the size, length and athleticism, especially on the defensive end.
It was a low-scoring five-point game throughout, but YAAACE could not get over the hump, ultimately taking the loss 47-38.
"It was the length of their zone, once they started utilizing it, we ran into a bit of a problem, it got our boys rattled," YAAACE Head Coach Jordan McFarlane told NPH.
"It's a learning experience, it's not the end of the road, we have one more tounament before the end of the summer; baby steps, we're just going to keep climbing the ladder."
Marcus Ottey, who has been throwing down jaw-dropping dunks all week, has grown into more than just a high flying act.
"Everybody is in awe of his athleticism, but not many have taken in how much he has grown fundamentally. In order to get to the rim, he has to have fundamental skills," said McFarlane.
In one particular play in the first half, Ottey pulled down a rebound, dribbled past the entire King James defence and punched one in, high above the rim, in front of 20+ NCAA coaches including Indiana, Miami, Indiana, Iowa, Clemson to name a few.
Justin Jackson, the headline name, struggled in the first half and was in foul trouble, however turned it up in the fourth quarter as he was more aggressive and assertive in his movements.
"He's definitely has to get that killer instinct that 'I gotta go in from the first quarter to fourth' once that kicks in, I don't think there will be many athletes that will be able to hang with him."
Tyler Barlow (2016 6'9 C) stepped up big, having his best game of the tournament with entering with high activity level, allowing him to snatch offensive rebounds and draw fouls.
Keshon Montague and Godwin Boahen must also be noted for their defensive efforts, drawing charges all tournament long and making winning plays.
After blowing out much of their competition, YAAACE met their match in the championship game, which they will use to further their development, according to McFarlane.
"I wish all our games were like this one, you learn the most when you're challenged."