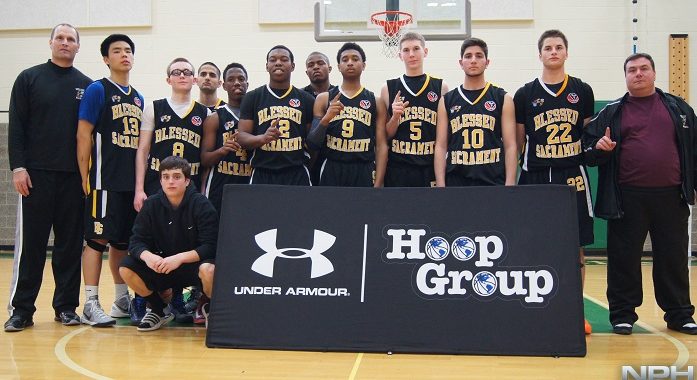 Blessed Sacrament Reaches Pitt Jam Fest 16U Championship, Brampton Warriors Take Open Bracket
Each time I watch Blessed Sacrament in action, they surprise and make me a believer. Throughout the weekend, the Hamilton-based 16U team competed in the Steel Bracket of the Pittsburgh Jam Fest, where they knocked off team after team, playing their brand of basketball en route to the championship game.
"Defense…that's how we win games, that's how we score out in transition," Head Coach Art Lenters told NPH.
If you take a look at the roster, you would notice that the team does not have much height [tallest player 6'3] or any "big time" prospects, however Blessed Sacrament has quality players that possess a great work ethic and strong fundamentals.
"We're undersized but we play as a team and we share the ball. The guy that's open has to get the ball and you take what the defence gives you," said Lenters.
Multiple players stepped up in various moments throughout the tournament including Joel Clarke, Adam Vuong, Malik Richards and Andre Toic, but what really stood out was the intangible traits that we at NPH continuously stress, and Brad Spera lead the way in this regard.
"He showed Tremendous leadership on the court on both ends, distributing and scoring when he needed to, excellent defence," professed Lenters, referring to Spera's presence.
In addition to his scoring and distributing, Spera provided the team with energy and displayed the leadership that few possess on the high school scene.
Blessed Sacrament ultimately fell to Maryland in the championship 41-36 coming five points short of bringing home the gold. Following their semi-final victory, Coach Lenters told us that the team's goals entering the tournament and the thought of losing did not co-exist in their huddle.
"It's always the goal to win every game, every game is a new opportunity…every possession is a new opportunity, that's what we install in these guys," said Lenters.
"We play hard, it starts with aggressiveness on defence and good things will happen out of that."
Brampton Warriors Capture Open Bracket Championship
It was an All-Canadian championship final in the open bracket with the Brampton Warriors defeating the Waterloo Wildhawks to take the gold.
Familiar names such as David Aromolaran, Tristan Coley, Addy Ogunye were on the Brampton team going up against a big Loo' roster featuring, 6'8 Adam Voll, 6'8 Cory Kenning, 6'7 Dan Elgadi, 6'7 Malcolm Piazza, along with strong PG presence in Javon Masters and Vedran Dmitrovic.
Brampton Warriors Head Coach Mark Ennis stated, "We used our speed and traps…pressed the entire game."
Top performers for the team were David Aromoloran (Campion), Addy Agunye (D'Youville), Lamar Joseph (St. Roch) and Nicholas Campbell (Brampton Centennial).