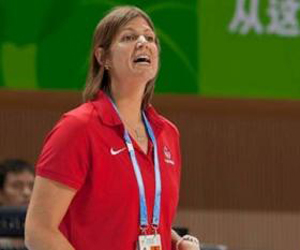 Thomaidis Ready to Take Team Canada To the Next Level
TORONTO, ON– When Canada Basketball searched for the best coach for the Senior Women's program they looked at many candidates, but ultimately decided on the one closest to home.
Former assistant Lisa Thomaidis recently took the reigns as the newest head coach of the Canadian Senior Women's National Team (SWNT), succeeding Allison McNeill who she had worked with for the past 11 years.
Thomaidis takes over the program at a pivotal point. After qualifying for the London Olympics last summer in dramatic fashion, the team battled their way to the quarterfinals on the games' biggest stage, an experience that has them wanting even more.
"This team needs to be taken to the next level, there's no secrets about that, and I wanted to make sure that I could devote the amount of time necessary to do that," said Thomaidis in a recent interview with NPH. "It took some time coming to that realization and when I finally decided that it was something I was truly passionate about I jumped both feet in, so to speak."
With great progress at the cadette, junior and developmental levels, Thomaidis believes that Canada Basketball is creating a "pipeline" of talent. A collection of exceptional athletes including Michelle Plouffe, Nirra Fields, Kayla Alexander and Natalie Achonwa have grown within the national team system and are poised to form the foundation of strong squads for years to come.
"I think just in the last five to seven years there's been a much more systematic approach to the development of our junior and cadet players," said Thomaidis. "I think it's paid huge dividends because it really brought together the best players in our country and we had an intense training program for them year-round that they could compete against the best with very good coaching and we've seen the benefit of that."
Viewing the game with perspective comes naturally for the Dundas, Ontario native who is also the head coach of the University of Saskatchewan Huskies women's team and will balance that position with her national team duties. Before her coaching days, Thomaidis played five seasons with McMaster University where she was an OUA All-Star before playing professionally in Greece.
"Knowing the international game from a players' perspective, not just as a coach it helps my coaching style and just dealing with the athletes," said Thomaidis. "The international game is just so different than NCAA or CIS so having 11 years of experience at that level has served me really, really well in that there's probably not much that's going to surprise me any more."
The Senior Women's program will take its next step shortly as school and club seasons wrap up and players begin to report for national team training camp.
"In May we're going to have our first tryout and training camp," said Thomaidis. "From there we have a tremendous competitive schedule this summer with an opportunity to play a number of different nations who have been at the Olympic Games, who anticipate will be at World Championships, so very high level competition."
"We're going to first do a European tour where we go to France, Serbia, Montenegro, and Czech Republic, then we have competitions in China and a tournament in Brazil and that all leads us to the FIBA Americas Championship in Mexico and that's in late September, so lots of opportunity."
Canadian women's basketball is beginning to be recognized as an international power and Thomaidis is poised to help lead the team as they take the next step. She plans to bring a winning mentality to the program where simply qualifying isn't enough, and the focus must be on reaching the podium with consistency.