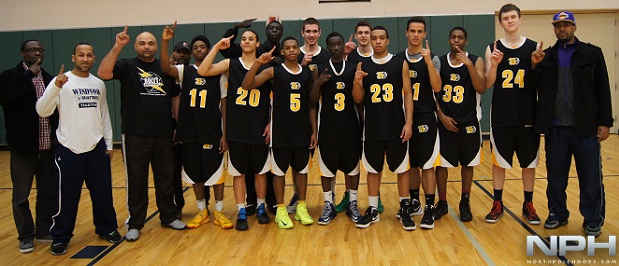 Windsor in the Building…Team Boltt Repeats as Motown Showdown Champions!
Windsor, Ontario is definitely in the building.
Team Boltt has made history, winning back-to-back Motown Showdown Championships competing against some of the best AAU programs in Michigan and beyond.
Boltt defeated the Michigan Mustangs in an overtime thriller that saw multiple players step up and battle for the victory. Rebounding, loose balls, defensive pressure and mental toughness took this Boltt squad over the top and it only made sense that the final play of the game was won on the defensive end.
It was the third game in less than four hours and stamina was certainly a factor for both teams.
Isaiah Familia, the youngest player on the roster carried the load for Boltt by scoring the ball, defending and creating plays for his teammates. This NPH Showcase alumni was consistent throughout the entire tournament, a name you will hear more of in the future, so get familiar.
Munis Tutu, a name you should already be familiar with, looked over worked as he played heavy minutes throughout the tournament. BUT big time players fight through in the clutch and make big time plays…that is just what he did nailing a three-pointer with 20 seconds left in the game, to send it to overtime!
In both regulation and in overtime, it looked like the game was slipping away, but the boys found a way to get it done in a great finish, as the coaching constantly hollered from the bench, "suck it up."
"At the end of the game we put it together…our coach told us to play hard and that's what we did," Tutu told NPH. "I was really tired but I knew I had to make a play for my team. I'm also really proud of my team-mates, everyone contributed."
Juwan Lynch, Viktor Jankovski, DJ Reid, Omar Hayes-Williams, Marko Janjetovic all played their hearts out as they put on the press and did a masterful job of forcing turnovers all tournament.
Credit must also be given to Head Coach Jermaine Jackson, who did a flawless of job with game strategy including substitutions, time outs, defensive options and most importantly, motivating his team to fight through adversity.
Although still very early in the AAU season, this is a great start as Boltt opens the circuit with a bang and prove they are no one-trick pony. They will now head to the Pittsburgh Jam Fest next weekend where they could collide against some fellow Canadian teams.
In the meantime, they will enjoy the moment and prepare for the next one, as it was a special victory for the program including big wins over Michigan Mustangs and The Family Detroit.
It's safe to say Team Boltt is back on the national radar.
"Back to back championships, that's big…I don't think any team from Windsor has ever done that."