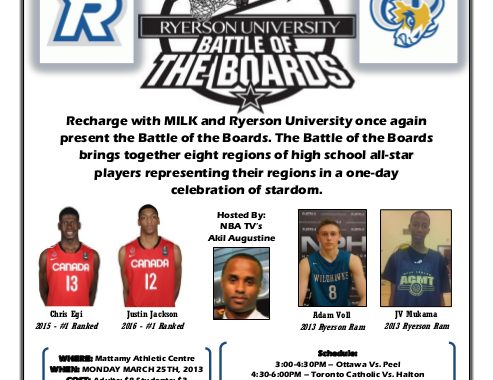 Battle of The Boards Tips Today Featuring Top Canadian Prospects – Rosters Released
TORONTO,ON– Recharge with MILK and Ryerson University once again present the Battle of the Boards. This event brings together eight regions of high school all-star players representing their regions in a one-day celebration of stardom.
The GTA's finest will take to Ryerson at Mattamy Athletic Centre's Coca-Cola Court to showcase their talent in front of the home crowd. Not very often, do we get this amount of talent in one gym…if you're looking to witness the next crop of Canadian talent take the floor, the Mattamy Athletic Centre is the place to be today!
Former all-stars include Gonzaga's Kevin Pangos, Andrew Wiggins, and Ryerson's very own Aaron Best and Jahmal Jones.
This year's BOB is spearheaded by names such as Chris Egi, Justin Jackson, Troy Reid-Knight (Maine), Cassidy Ryan (Canisius) Kedar Wright to name a few!
In addition to 4 regional games, this years event will include a Dunk Contest, 3-Point Challenge, and Shooting Stars competition!
WHERE: Mattamy Athletic Centre – Coca-Cola Court (50 Carlton St.)
WHEN: MONDAY MARCH 25TH, 2013
COST: Adults: $8 Students: $3 Kids Under 12: Free
TIME: 3:00PM – 10:00PM
Participating Regions:
Peel, Toronto Catholic, Ottawa, Independent 1
Halton, Toronto Public, Hamilton, Independent 2
Schedule:
3:00-4:30PM – Ottawa Vs. Peel
4:30-6:00PM – Toronto Catholic Vs. Halton
6:00-7:00PM – Skills Competitions
7:00-8:30PM – Independent 1 Vs. Toronto Public
8:30-10:00PM – Hamilton Vs. Independent 2
ROSTERS:
Ottawa Region
Nick Jordan (St. Pius X) – 6'3/180
Josh Millar (Glebe Collegiate) – 6'7/210
Brody Maracle (Holy Cross) – 6'7/215
Raph Riche (Louis Riel) – 6'5/215
Chris McComber (John McCrae) – 6'7/230
Roydell Clarke (St. Patrick) 5'11/172
Mike Quinn (Louis Riel) – 6'9/225
Shymar Brewster (Merivale) – 6'3/180
Braeden Wilkinson (St. Patrick) 5'11/175
Chris Nsenga (St. Patrick) – 6'0/160
Coaches: Tony House (Sacred Heart), Matt Koeslag (St. Patrick)
Independent North 2
Kassius Robertson – 6'3/180
Julius Antoine – 6'3/195
Troy Reid-Knight – 6'0/185
Marko Pirovic – 6'8/205
Gentrey Tomas – 6'3/185
Raheem Williams – 6'4/165
Marcus Jones – 6'2/165
Corey Kenning – 6'9/255
Abednego Lufile – 6'7
Connor Gilmore – 6'6
Coaches: Jesse Tipping, Shane James
Peel Region
David Aromoloran (Campion)
Cassidy Ryan (Carmel)
Damiann Prehay (Bramalea)
James Agyeman (Dyouville)
Josiah Riley (Dyouville)
Markus Adams (Woodlands)
Nicholas Campbell (Brampton Centennial)
Rayon Miller (Dyouville)
Denzil Abrams (Fletcher's Meadow)
Reilly Reid (Lorne Park)
Tristan Coley (Central Peel)
Kedar Wright (Campion)
Coaches: Omar Miles, Louis Pahis, Geoff Edwards
Hamilton
Jean Victor Mukama
Dimitri Rakas
Hamid Nessek
David Macollough
Anthony Mercanti
Colin Corrigan
Francis Kiapway
James Miles
Nick Burke
Brian Hyrski
Sheldon McIntosh
Coaches: Martin Vaillancourt (ACMT), Dwayne Washington (McNabb)
Toronto Public
James Sylvester (Eastern) – 6'1
Justin Jackson (Eastern) – 6'6
Rakim McFarlane (Vaughan Rd.) – 6'1
Steffon Watson (Martingrove) – 6'2
Junior Asamoah (Downsview) – 6'2
Keyano Miller (Jarvis) – 6'4
Jordon Rose (Oakwood) – 5'9
Kahleek Bakare-Whyte (Oakwood) – 6'0
Rashawn Salmon (Westview) – 5'11
Nana Adu-Poku (Westview) – 6'6
Frankie Salmon (Emery) – 5'11
Jamal Badu (Emery) – 6'0
Head Coach: Kevin Jeffers
Assistant Coaches: Gyasi Moffet, Dan Mascalidis
Manager: Lou Sialtsis
Independent South 1
Malcolm Duvivier (St. Michael College School) – 6'2
Michael Peterkin (Crescent School) – 6'6
Nic Morris (Crescent School) – 6'7
Chris Egi (St. Andrew's College) – 6'8
Nelson Kaputo (St. Michael College School) – 6'1
D'Andre Austin (St. Basil The Great College) – 6'2
Simon Polan-Couillard (St. Michael College School) – 6'6
O'Neil Halstead (Upper Canada College) – 6'2
Michael Simonetta (Crescent School) – 6'1
Sage Usher (St. Michael College School) – 6'3
Daniel Cummings (St. Andrew's College) – 6'4
Nathan Culbreath (Bayridge Secondary) -6'4
Halton
Regis Ivaniukas (Holy Trinity)
Nick Ernest (Holy Trinity)
Nolan Mackenzie (Holy Trinity)
Jake Babic (Loyola CHS)
Mike Mullins (Notre Dame CHS)
Daniel Dooley (Notre Dame CHS)
Jordan Scott (Notre Dame CHS)
Owen Coulthard (St. Thomas Aquinas)
Sebastian Beckett (Georgetown DHS)
George Babic (Lester B. Pearson)
Filip Vujadinovic (Nelson HS)
Oliver McMayoni (Loyola CSS)
Coaches: Andrew Saulez, Dominic Ragonetti, Audrius Stonkus
Toronto Catholic
Revaughn Gayle
Sammy Ayisi
Jermaine Atkins
Jayden Carnrite
Emeron Rodgers
Jalen King
Tevaun Jackson
Kemar Alleyne
Kenrick Lewis
Brendon Chevannes
Josh Bell
Christian Hewitt
CONTACT: Patrick Tatham, Ryerson Rams Assistant Coach – patrick_tatham@hotmail.com