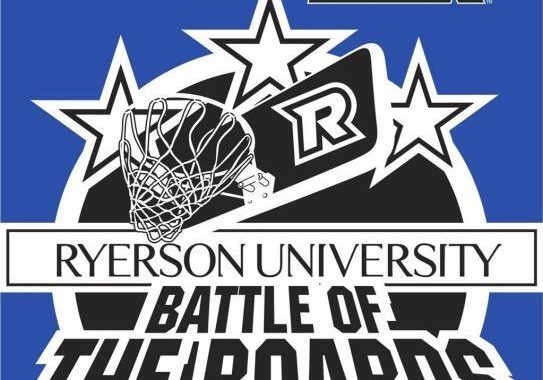 Malcolm Duvivier Buzzer Beater Lifts Private School Reps Over Toronto Public, Justin Jackson Displays Full Package
It may have been a bank shot from the baseline that probably wasn't called but hey, Malcolm Duvivier got the job done and the Independent league team will take it. The St Mike's guard went from helping the Blue Raiders capture an OFSAA championship, to hitting the buzzer beater last night at the Battle of the Boards to lift the Independent League (Private) over Toronto Public 76-75.
Duvivier went on to lead his team with 19 points in the come from behind victory. Daniel Cummings of St Andrew's was key to the win as he spearheaded a run in the fourth quarter to keep the Independent league within striking distance. Cummings contributed 13 points, as we continue to watch the underclassmen make improvements on his game.
Chris Egi struggled finishing inside on this night but did end up with 14 points, while gobbling up his share of rebounds. Nathan Calbreath who we first saw at the NPH Showcase in February posted 10 points while once again displaying a strong motor.
Sage Usher of St Mike's continues to prove his worth as a do it all guard with a specialty behind the arch. In this playing environment, he was able to display his athleticism and penetration abilities, while doing a good job of drawing contact. Fresh off a good visit to Dalhousie (AUS), Usher will decide whether he will play at the next level as a Tiger (or elsewhere), or potentially return for a post-grad year.
On the flip side, Justin Jackson, one of Canada's brightest young players displayed a full package last night and looked as good as I've ever seen him. We already know about his unique vision and passing ability at 6'6, however it was his engagement and intensity on both ends of the floor that I was really impressed with.
Jackson shot the three ball well, looks great physically (strength and explosiveness) as he showed on a two-hand dunk down the lane, and looked focused at all times, VERY refreshing to see. An extremely talented young man that must continue working to maximize his full potential. Based off last night's performance, Jackson looks right on track.
Haven't seen Jackson Yet?
[youtube Dy6qjQWgR0Y]
Community Support
I had the opportunity to witness a week of British Columbia high school basketball action this month as I travelled out West for the BC provincial championships. On my trip I learned a lot, specifically on the basketball culture within the province. We may have a stronger talent pool in Ontario, however I'm sorry to say that we also may have the weakest community support within the country. The BC championship game between Walnut Grove & WRCA drew over 4,000 people in attendance! UNHEARD OF in the province of Ontario.
Why am I mentioning this? Well, Ryerson U hosted Battle of the Boards [a great event] last night featuring many of Canada's brightest future stars, to a less than impressive crowd in attendance. However this issue goes deeper than one event, as I've witnessed over the years. It's about the lack of community support and unity within the GTA, an issue that must be solved if we are to truly move forward as a basketball nation.
It shouldn't take a name like Andrew Wiggins to pack the house; major high school tournaments and events around Ontario should be drawing sold out crowds; the kids deserve better. Lets step it up.