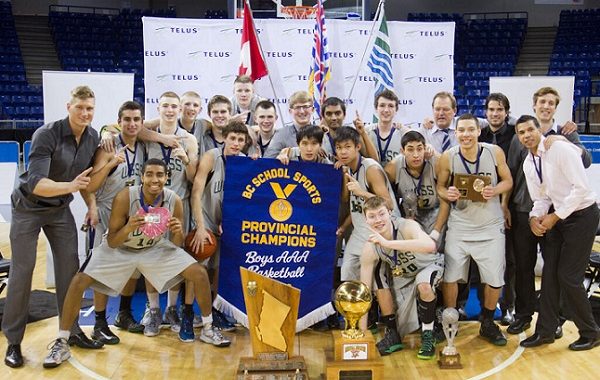 Walnut Grove Captures British Columbia Provincial Title, End of an Era For White Rock Basketball
LANGLEY,BC–Over 4000 screaming fans at the Langley Events Centre were treated to a battle between the two top teams in BC high school basketball, Saturday night.
It wasn't the prettiest game, and both teams were likely fatigued from a compressed tournament schedule that saw them play four games in four nights, but in the end the Walnut Grove Gators were able to outlast the White Rock Christian Academy Warriors 59-53.
Tournament MVP and First Team All-Star Jadon Cohee—who led Walnut Grove with 22 points, 4 rebounds and 4 assists— took a few moments to savor the victory, but then spoke of improvement, reworking his jump shot and making himself more of a threat in the offseason. "Tomorrow I'm going to get back in the gym," Cohee told NPH after the game "It's just another day to get better, you can't take any days off."
Also for the Gators, 2013 Josh Mayorga had a solid night, finishing with eight points and eight rebounds, and was also named to the First All-Star Team. The versatile forward could be the only person ever to play in the Ontario (OFSAA) Final Four and the BC Final Four in consecutive years. After the game, Mayorga spoke with NPH about transferring for his senior season, "I was upset. I spent a lot of years at (H.B.) Beal and it was a really good school, but I feel so blessed to come to a school like Walnut Grove." Mayorga said. "They took me in and made me feel right at home."
As it has been all season, the Walnut Grove bench was key. Senior guard Brad Hoffman was the second leading scorer with 11 points in 19 minutes, and forward David Wolde-Mariam caused havoc all over the court, contesting shots and battling for rebounds. He finished with 5 points and 7 rebounds in 18 minutes.
For White Rock Christian, 2013 guard Tyus Allen led the team in points (14), rebounds (12) and assists (5). Forwards Vartan Tanielian, Peter Spangehl, and Sam Ykema also finished with double digits in scoring, but as a whole the Warriors shot the ball poorly, especially from deep finishing, 7/32 from beyond the arc.
"When you shoot that poor of a percentage, you're not going to win" White Rock's Scott Allen told NPH after the game. "We settled for long shots. They played zone and we shot it poorly."
The Warriors now go about the task of rebuilding a program that has been strong for over a decade.
"We're making strides to hire the right people and keep that tradition going." Allen said. "It might take a couple years to bounce back, but looking forward, we're doing everything we can to build it back up."
We may not hear from White Rock basketball for some time, but if Scott Allen has any say, the program that he built won't be down for long.