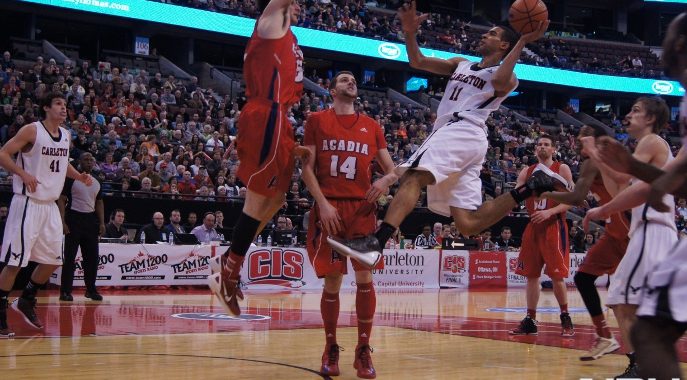 Carleton Defeats Acadia, Take On "Toughest Team in The Country" in Championship
OTTAWA, ON–The CIS finals are all set and feature two OUA teams that are very familiar with the atmosphere of National Championships, the #1 Ranked Carleton Ravens and #7 Lakehead Thunderwolves. Last night, the Ravens defeated the Acadia Axemen 84-69, and now will defend their title in their city and on home court.
For the first two quarters it was an even game, as Careton held a 31-29 lead entering halftime. It was no secret, the game plan for the Ravens was to neutralize Owen Klassen; they double-teamed and denied him the ball, however the 6'10 Kingston product was still able to be effective.
Klassen finished with 17 points, six rebounds, two blocks and two steals. Fresh point guard, Sean Stoqua lead Acadia with 20.
For Carleton it was the Scrubb brothers that lead as Philip posted a game-high 26 points while Thomas put in 20 on 8/12 shooting.
"He's been our best player in this last month and is guarding the other team's best player…he's stepped up and is a big reason why we are here today," Philip told NPH, referring to his older brother.
Tyson Hinz and Clinton Springer-Williams struggled from the field however still racked up double-doubles. Hinz posted 15 points, 11 rebounds and four steals, while CSW put up 11 and 10.
Carleton will now take on Cinderella, otherwise known as Lakehead, who have already knocked off #2 Cape Breton and #3 Ottawa.
"Their the toughest team in the country; mentally, physically…what they've done the past two games is incredible…its a team we have the utmost respect for and concern for playing them," explained Dave Smart.
Lets not forget that the Thunderwolves defeated CU in the Wilson Cup in recent memory, which nobody saw coming. Dave Smart reminds the media.
"They kicked our butt two years ago in the Ontario final…this team is extremely capable as they have just shown."
The respect level is very evident between both programs, from the coaching staff to the players.
"Like coach said, their the toughest team in the country…they have a lot of guys that can defend and rebound so we're going to have to be ready for a battle," Phil Scrubb told NPH in the post game.
After being asked whether the CIS record nine championships is on his mind, Dave Smart down played his individual accolades, keeping the spotlight on the present.
"We just have a shot at one, the kids only get one."