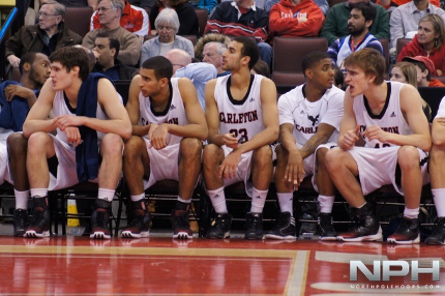 Carleton Steamrolls Victoria, Set Up for Big Match Up Against Acadia in Final Four!
NPH Top 50 National Player Rankings
OTTAWA, ON–It was a great game between #1 Carleton and #8 Victoria for the first quarter…then it went down hill from there for Victoria. Carleton locked up the Vikes, holding them to only three points in the second quarter and 46 point total. The Ravens handled the Vikes 83-46.
Briefly it looked like we were in for a game, however the Ravens settled down after the first frame and disturbed the Victoria offense from there on out.
Speaking on the close first quarter, Ravens Head Coach said, "We came out sloppy defensively and they executed well."
"I dont think it was anything that I told them, I think we got a little more settled down in the atmosphere and forced them to their weaknesses more…and they missed shots, but I think we rebounded well."
Three Ravens hit double figures and 11 of the 12 players on the roster were up on the board. Clinton Springer-Williams lead the way with 15 points, seven rebounds and two assists. Philip Scrubb and Kevin Churchill chipped in with 13 and 11 respectively.
The CU victory sets up a special match up against the big dogs from the AUS, publicly known as the Acadia Axemen. This is a highly anticipated game that features the #1-ranked player in the nation in Phil Scrubb,#4 Tyson Hinz, #5 Owen Klassen, #10 Thomas Scrubb and #30 Anthony Ashe.
Dave Smart understands the talent level on this Axemen team and is certainly not taking them lightly.
"I think they are as talented, if not the most talented team in the country. They've got the most talented player…I guess people can debate whether he's the best player in the country but he's certainly the toughest match up and everything goes through him," explained Smart, referring to Owen Klassen.
There is some interesting history with Klassen and Sean Stoqua, both former Carleton recruits that Smart would've loved to have in Ravens jerseys. Smart told the media that Stoqua was one of his favourite players to coach (Ottawa Guardsmen), however the Acadia football program was the X-factor for the dual-sport point guard.
As mentioned, Owen Klassen will be a tough match up at 6'10 with a versatile package. Klassen is able to hit the three ball, back up defenders, run the floor and is physical on the interior; not to mention his face up game where he can take defenders off the dribble.
"I think with a guy like Owen, it's tough to be successful doing one or two things. We've worked hard all year trying to do different things against the post position," said Smart on defending Klassen.
Although Carleton is the favourite as usual, Acadia is not to be counted out…and Dave Smart knows it.
"In the pre-season ranking, I had them #1 one. Before any games were played, they were the number one team in my mind."
Carleton Ravens Dunking
Out of curiosity, I asked Dave Smart about the fact that Carleton never has any players dunk in game. I had hear whispers that it was a team role. That is false.
"Lack of athleticism," he joked.
"There are no team rules. I just want them to score…if they want to dunk on three guys, all power to them."