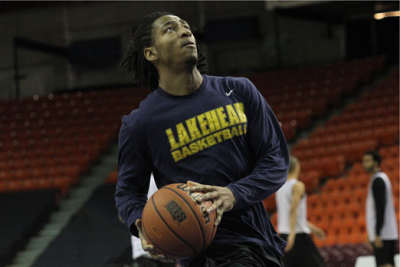 Ben Johnson Lights Out, Greg Carter Locks Up as #7 Lakehead Upsets #2 Cape Breton
OTTAWA,ON–Ben Johnson shot the lights out at Scotia Bank Place for #7-seeded Lakehead as the Thunderwolves upset Cape Breton, the #2-ranked team in the country 74-61.
Johnson finished with a game-high 25 points on 7/10 from the three-point line. The 6'0 guard hit timely threes to extend leads and kill Lakehead momentum.
"Every time we shoot it we think it's going in, me and Bryson," said Ben, also referring to his brother at Bucknell.
Ironic that Johnson, the Nova Scotia product ends national championship hopes for the AUS contingent in Cape Breton.
"Im from Nova Scotia so I know all about CBU-St FX rivalry…I always remember going to those games when I was younger," explained Johnson.
CIS Defensive player of the year, Greg Carter did a masterful job guarding Jimmy Dorsey, holding him to 12 points on 4/15 shooting, while getting him into foul trouble.
"Having a weapon like Greg Carter on your team just makes it tough for any guard in the country," said Johnson.
Carter told the media, "I took it pretty personal…he's an all-canadian and I'm the defensive player of the  year. That was our game plan to be honest, slow him down and make others on the team become scorers.
Carter posted 9 points, five rebounds, five assists to go along with two steals in the Lakehead victory.
Lakehead shot the ball well, particularly from deep (40%), following struggles at the OUA Final Four.
Dwayne Harvey was also a major factor for the Thunderwolves creating for himself and others while defending at a high level. The Hamilton, Ontario product filled the stat sheet with 16 points, a game-high eight assists, six rebounds and four steals on 6/10 from the field.
For Cape Breton, it was Arild Geugjes who lead the way, working hard on the glass and getting second-chance opportunities, posting 12 points and eight rebounds. Jimmy Dorsey was scoreless at halftime, and finished for a total of 12 points, four rebounds and four assists (4/15 FG).
Sean McCormick and Cedric Kasongo added 10 points apiece.
In the end, it was too much Ben Johnson on offense, and a handful of Greg Carter on the other end.
"I feel estatic right now, great feeling…I knew this could be the end of my career and I wanted to make the best of it," said Carter.
That he did, proving why he is the best defender in the nation.