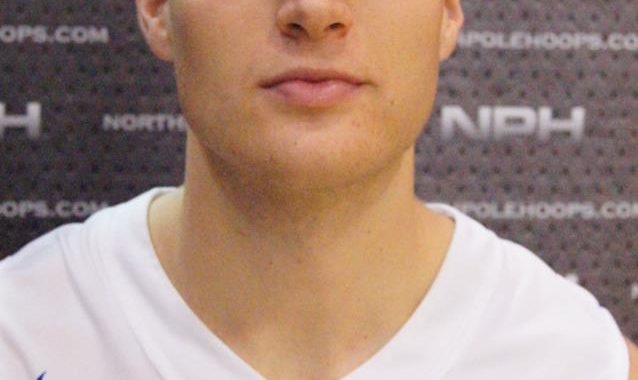 Doug Plumb, UBC's Road to Nationals — Plumb Checks In
Tuesday night here and my head is in the clouds.  Literally though…I'm in a plane to Ottawa somewhere above an exotic Manitoba below.
The last time I wrote we were heading into playoffs against Alberta. Alberta was without their best player due to injury, Jordan Baker.  You would think this would relieve me but instead it had the opposite effect.  Not only did it make them more difficult to scout because they had people with increased roles, it  also gave them a type of 'nothing to lose' mentality which every athlete knows is scary.
We won the first game but had to do it on a 4th quarter comeback and I think it'll lulled us into a false sense of security.  On the saturday it was a complete one-eighty turn.
Ken Otieno came out guns a blazing and torched us in the half court, the open court…probably even the layup lines.  We lost by 10+.  That game ended late and I got out of War Memorial at probably 10:30 pm.  I have never been more exhausted in a basketball game than that game.
The good news: we had a shot to right the ship the next day.  The bad news: there was only about 13 hours to recover and regroup.
I'm not going to lie, I couldn't sleep that night.
One game.
The game I have played since I was a skinny-fat 3rd grader with buck teeth and had always envisioned ending with a championship victory now rest on one game.  The anxiety I felt from the lack of control I had over different variables of the situation was paralyzing.  I sat in my room until 5 a.m. I took some maeng da kratom and finally got myself into the headspace I needed to be in, no way I was going out like that.
The next day the team came out FLYING.  We completely embraced the reality of the situation and attacked it head on.  A lot of things in sport are overanalyzed to death, construed and manipulated to formulate some sort of 'raw-raw' or 'feel good' story that really wasn't there; however, this was different.
We started the game 14-0 and locked in defensively.  We pushed it to 30 by half.  I was not only extremely grateful of my teammates for my selfish reasons of wanting to keep my university career alive when it appeared to be on life support…but was also immensely proud.  We are 'UBC', but we are still a very young UBC team.  To me this was a defining moment I'll always remember about this season.
The irony of the situation was astounding. Lose that game and the season is a failure, a wasted season.  Win that game and we host CanadaWest Final four where we are the favourites to win and get back to nationals.
CanWest Final 4
For myself, the way this season was shaping up down the stretch was nothing short of a  hollywood movie script.  The previous weekend I play not only my former Coach but also the team that ended our season last year.  We get pushed to the brink and ball out like rabid dogs to get the dub.  Now in the first round of the final four we play my old school, UFV.
We had heard Sam Freeman was out, then we heard he was going to wear a flak jacket, then come game time he was in street clothes from The Fifth Collection.  As much as I was happy to not see him suited up, I really feel for him that he had to go out like that.  He turned himself into a hell of a player.
I really tried to make the game just a 'game' but there was no way around it.  Me and Grewal go way back and it was only fitting that it would go down like this.
First half they go up 13 early.  We are REAL tentative and are playing like tomorrow is promised.  We go into halftime down 8.  At halftime we were candid.  I felt like there was a sense that even if we lost we had a good shot at the wild card and didn't have desperation like they did.  We all realized and acknowledged this and came out much more focused in the third.
Tie game going into the fourth.  One quarter from either going back to nats or one quarter from letting someone else decide our fate.
That fourth quarter was the most stressed I've ever seen my dad.  Him more than anyone else has been there with me for this whole thing.  He has lived, breathed and bled, probably as much, if not more in order for me to be able to be at this level and in this moment.
There comes a time where you just get this feeling in sports, I cant explain it but when you get there…. you know it.  In that moment, nothing else matters.
The fourth quarter was one of those moments.
It was an absolute grind. Our crowd was close to 3000 people and it felt like they almost willed us to victory.  It was wild.
Final- Uvic
We finished the season 18-4 in conference.  Only Alberta, Fraser Valley and Victoria had beaten us…I told you this story was cliche…
Once again thanks to our fans there was just shy of 3000 people in the stands.  Never have I experienced War Gym so electric.
We were up 10 or so going into half but we had caught some breaks with their foul trouble. In the 3rd quarter it was back and forth and they stayed within striking distance.
Enter the fourth.  We are up 7 or so and then seem to let our hair down for a second.
WHAP..WHAP.  Two Vic buckets.  The game now came down to FT's both ways.  We end up being up 3 with 1 more shot to put it to 4 and effectively close it out.
In and out.
Vic comes down, we have miscommunication in transition and leave the best three point shooter in the conference open….the collective 'gasp' in the gym can probably be heard on the tape.  Back rim. Buzzer.  Cardiac kids…I'm too old for this.
It was awesome to win CanWest in my last year but I think it is something I will look back on and cherish more down the road.  The title, the fans, the atmosphere, the lead up, the moment…all of that.  But as much as I tried to enjoy it I remembered what happened last time we won this.  I went to nationals expecting that this was just the way it was: 'UBC wins conference championships and contends for the ring every year'..then last year happened.  Wake up call.  Nothing's ever promised tomorrow, today.
All I could think about was refocusing the guys and keeping everyone hungry for Nats.
Sunday comes around, I had no idea what to expect with seedings.  Then they come out: UBC – 4th.  At first I read that as was like 'WHAT IN THE #badword' but then I let it sit with me and internalized it all.
This is probably the first time in as long as I can remember that UBC is heading into nationals and no one is really talking about us.  When you go in to something as the 'over-dawg' the pressure and the expectations can make it extremely difficult to succeed.  In those big moments the fear of failure is the elephant in the room.  If you win, it's expected; If you lose, its a story.  I know I speak for the team when I say this, we love where we are.
This isn't to say we are sitting here being like 'oh, we're just gunna play and see what happens'…hell no.  We are going for this thing, balls out.  I never understand why people sit back and take a neutral approach.  If you don't think you can win the damn thing then why even roll up.  If you want to be the best, you have to beat the best.  It's a dog eat dog world and you have to believe.
Let the games begin.
– @dougplumb #gobirdsgo