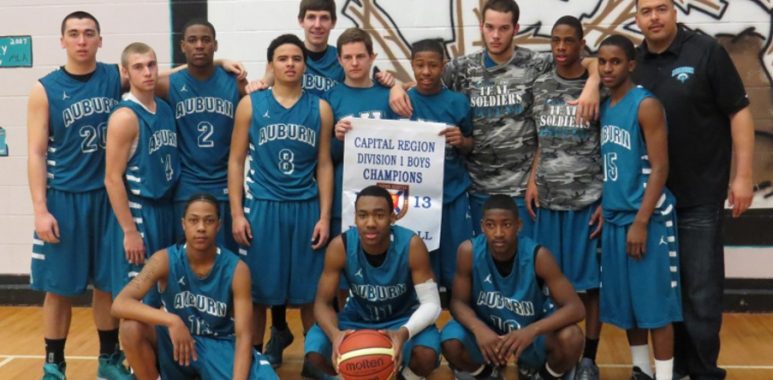 Nova Scotia's Auburn High Beats Citadel In Metro Regional Championships, Davonte Provo Drops 37
Halifax, NS–The Halifax Metro Regional Championship was another highly anticipated game that featured the two NPH Top 25 ranked teams from Nova Scotia.  The championship was close until the third quarter when Davonte Provo, the senior point guard, decided that it was his turn to take control of this game and propelled the Auburn Eagles to a 101-90 victory over the Citadel Phoenix.  Auburn Drive High School has now won back to back Metro Regional Championships, defeating Dartmouth last year and this year defeating Citadel.
The first half was one that went back and forth as the home crowd at Auburn did their part to make it uncomfortable for the visitors. Following the first quarter break the Eagles had a 25-18 point lead. Citadel would respond and chipped away at the lead with a strong effort with hustle and being strong on the glass. Still heading into the halftime break, Auburn led 42-40 as Davonte Provo had already pumped in 16 points.
While it was close at halftime Davonte Provo was on a mission to change that.  Provo exploded offensively with 14 points in the third quarter alone.
Auburns Head Coach Lance Sparks spoke to NPH after the game "The third quarter was Davonte Provo…I can't talk enough about this kid he took his game from grade 11 to grade to 12 to a whole new level and that's proven with his scholarship to St. FX"
The St. FX commit was doing it all and injected a new life into the crowd and his team.  Auburn started to pick up steam with the offensive success from their point guard and never looked back.  They battled to a 69-62 lead heading into the final quarter. While Citadel was not out of the game they continued to slow down the Eagles attack.
"I wanted to get my team involved and get my scoring up and make sure that we keep the lead the whole game,"remarked Davonte Provo following the game.
In the fourth quarter, Johneil Johnson took control offensively and added 11 points to help pull away from Citadel. Midway in the final quarter Auburn had built up a significant 88-70 lead and was too much for Citadel. The Phoenix would make a few small runs but was never able to close the gap to a reachable point. Auburn emerged victorious for the third time in four meetings between these rival teams.
Moving forward Auburn has provincials on their mind and will have a target on their back as the team to beat having only lost one game this season. Citadel will be going to provincials and will potentially have a chance to get their revenge.
Provo spoke about provincials "It's going to get tougher for us. They (Citadel) want to beat us now, they're a good team, but we've just got to come out even harder."
"We're not done yet, we know that we still have lots of work to do, I am very confident that we will see Citadel again in the provincials and we've got to put this game behind us and focus on what's in front us," said Coach Sparksa.
NPH Top Performers:
Auburn:
Davonte Provo – 37 points
Johneil Johnson – 21 points
Jordan Crawley – 14 points
Citadel:
Jayden Nordin – 26 points
Travis Adams – 21 points
Isiah Thomas – 18 points