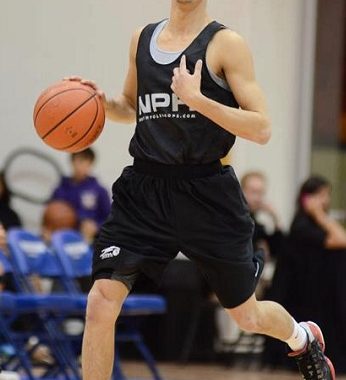 Pound The Rock Preview + Draw Released
As the weekend gets underway, there is a tonne of high level Canadian talent to track. NPH will be in attendance at the "Pound The Rock Invitational." There will be names that we are very familiar such as Mikyle McIntosh, Peter Rusic of 22 Ft. Academy, Nicky Desilien, Chris Boucher of Alma, Maine Commit Troy Reid-Knight, Marko Pirovic (Thornhill), Javon Masters, Adam Voll (SJK) and the list goes on.
On the other hand, there could be some sleepers waiting to prove a point. Here is a little secret, Nicky Desilien the aforementioned PG for Alma, Quebec is arguably the most complete player we have seen all year, not named Andrew Wiggins.
We had the opportunity to watch Athlete Institute recently, where Brent Carey and Spencer Dawson stepped up, however a few starters were missing from the roster nursing some minor injuries. The full AIA squad will be in attendance this weekend and could make a splash.
It will be interesting to see who shows out among all this talent, and more. The following are the rosters and teams in attendance at the event.
Pound The Rock Invitational Rosters
Alma Academy
#5 Jay Fequiere
#9 Quesly Noresias
#12 Jonathon Lukusa
#13 Nicky Desilien
#14 Yoann Folquet
#15 Andrew Girardot
#21 Christopher Boucher
#22 Charles-­‐Andre Edorh
#23 Kevin Mirindi
#24 Steven Clark
#25 Rudolphe Joly
Coach: Igor Rwigema
Alma Academy 2
#4 Jonathan Koud
#5 Mamadou Keita
#6 Kasey Paul Buzas
#8 Joel Tshimanga
#9 Jordyson Telfort
#10 Charles Berdnikoff
#11 Emi Cormeau
#12 Nathan Croxen
#13 Joslain Masimango
#21 Narcisse Kalamba
#22 Link Kabadyundi
#23 Joel Thabize
#24 Levi Londole
#25 Jordy Idikayi
Coach: Igor Rwigema
SJK
#4 John Kusinski
#10 David Khayipangi
#12 Andrew Belyea
#15 Saajan Arora
#20 Christopher Thompson
#21 DaShaun Lalor
#22 Michael Blumel
#23 Javon Masters
#24 Adam Voll
#32 Ivan Bilandzic
Coach: Borko Topic
Grassroots Academy
Reece Brooks
Chevy Brown
Darnell Gildi
Michael Essaluka
Kenrick Hudson
Joshua Yorke-Frazer
Haddi Abuzgaya
Dadrian Allen
Tyler Edwards
Stefan Duric
Jide Ashorobi
Aleksa Japalak
Coach: Ro Russell Coach: Rovonn Russell
22Ft. Academy (Kentucky)
#1 Peter Rusic
#3 Bronson Fridal
#4 Niels Bunschoten
#5 Jamar Ergas
#10 Racine Talla
#11 Brandon Chauca
#12 Marcus Lewis
#14 Naseem Hadrab
#15 MiKyle McIntosh
#20 Pieter Vrieleman
Metro Prep
#3 Shemar Anglin
#1 Mubin Yakubu
#15 Jalen Holdford
#12 Kirk Monkrieffe
#21 Jackson Rowe
#25 Randy Jernidler
#8 Mikey Santos
#5 Malik McPherson
#23 Malik Fagan-­‐Foster
#7 Jaleel Holdford
#2 Bile Duale
#11 Josh Clarke
#9 Kai McPherson
Coach: Dominic Devastey
Thornhill
#0 Jermaine Chisholm
#3 Kassius Robertson
#4 Cam Crieghtney
#52 Cole Crouter
#23 Marko Pirovic
#14 Kadeem Smithen
#21 Tristan Newman
#25 Marvin Ngonadi
#35 Troy Reid-­‐Knight
Coach: Xavier McLaughlin Coach: Jay'R Smith
York Avengers
#5 Markus Hasse-­‐Kollaritz
#6 Milad Gulan
#7 Josh Bush
#8 Jonathan Munyakazi
#9 Nabil Ibrahim
#10 Nate Solomon
#11 Philip Moloughney
#12 Alex Marshal
#14 Karamdeep Dhalla
#15 Michael Chao
#21 Tyler Kinch
#22 Brandon Jandu
Coach: Dave Bannister Coach: Luch Condarcuri
Northern Kings
#4 John Cadougan
#5 James Sylvester
#6 Trayvon Ross
#7 Cusean Lee
#8 Simon Girmay
#9 Ben Okyere
#11 Sammy Ayisi
#12 Moe Camara
#13 Shakeem Gumbs
#14 Michael Simonetta
#21 Malolm Smith
#22 Tevin Bailey
#23 Rayvaughn Gayle
#15 Michael Peterkin
REDA Brampton
#4 Lance Rodrigues
#7 Jon Ortiz-­‐Vanegas
#8 Kabmba Muteba
#9 Myles Charvis
#10 Nick Madray
#11 Jaiden Magnaye
#12 Jelain Mofford
#13 Kevin Heron
#14 Kaleel Faiz
#15 Jonathon Wallace
#21 Domonick Lewis
#22 Nathaniel Nelson
#23 Doran Kozai
Coach: Fred Grannum
GTA Elite
#23 Karandeep Malhi
#15 Andrew Animansah
#3 Tefari Bailey
#4 Devari Hamilton
#14 Daniel Smalling
#53Knolan Hall
#33 Josh Abas
#5 Harpreet Bassi
#55 Kendalle Edwards
#42 Bobby Singh
#1 Martin Tudo
#10 Haider Ali Khan
#25 Brandon Sarpong
#31 Theo Thomas
#44 Dishawn Johnson
Coach: Kwasi Boakye
Team Toronto (TB)
#34 Michael Provenzano
#15 Vincent Wood
#23 Kareem South
#10 Russell Baker
#21 Spencer Thomas
#12 Dwan Williams
#5 Chase Vassell
#13 Saul Sanchez
#55 Nick Morris
#16 Kelan McConnell
#22 Ian Smart
Coach: Chris Skinner Coach: Joe Machalski
REDA Waterloo
#4 Mustafa Abdi
#5 Emmanuel Kowfie
#6 Abendego Lufile
#7 Kevin Burcy
#8 Filip Music
#9 Mitch Wood
#10 Richard Maylana
#11 Tavon Edwards
#12 Vedrin
#13 Chris Mccumber
#14 Connor Gilmore
#15 Chritian Kademia
#21 Keith Brown
Coach: Tarry Upshaw
London
#3 Luke Sheahan
#4 Michael Provenzano
#5 Srdjan Sehovac
#7 Dashmir Kajmaku
#8 Matt Goble
#13 Bleska Kambamba
#15 Adrian Armstrong
#24 Pearson Brown
#33 Jason Hawke
#34 Connor Therrien
Coach: Angelo Provenzano
Athlete Institute
#3 Tyler Schneider
#4 Jason Crawley
#5 Tayo Shittu
#6 Spencer Thomas
#7 Dele Ogundokun
#8 Mark Nugent
#9 Gentry Thomas
#10 Brent Carey
#11 Marcus Jones
#12 Justin Bhangoo
#13 Cory Kenning
#14 Raheem Williams
#15 Nathaniel Johnson
Coach: Curtis Dauber Coach: Jesse Tipping
Markham
#1 Omar Anglin
#2 Keron Brathwaite
#3 Jamal Thomas
#4 Elijah Green
#5 Trae Bell-­‐Haynes
#7 Kevashen Padachy
#8 Bogdan Opinca
#10 Rashawn Brown
#11 Tyrell Lewin
#13 Andrew Degroot
#15 Konnor Finlay
#20 Kris Gabatino
#23 Andrew Grant
Coach: Jemino Sobers