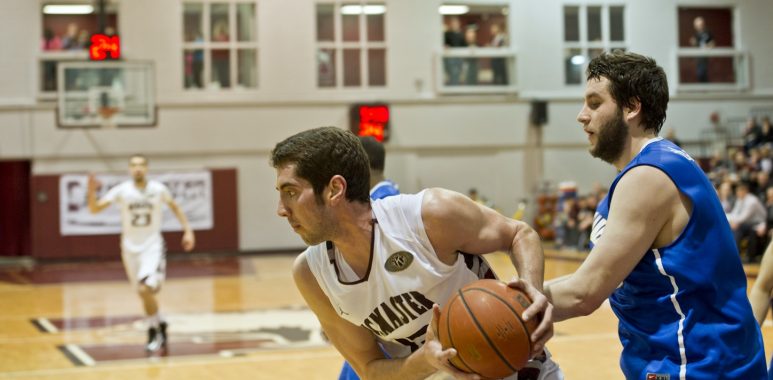 Thunderwolves Ryan Thompson's Hot Hand with 22pts Proves too Much for McMaster, Marauders Nathan McCarthy Drops 21 in the Loss
Hamilton, ON – With Lakehead coming off of a tough loss to Windsor, the Thunderwolves were aiming to get things going as they faced off against the Marauders who have won six straight. That win streak would be snapped at the hands of Ryan Thompson (22pts 5rbs on 4-7 from 3pt) who's hot hand lead the Thunderwolves to a 78-75 victory.
As the game got underway both teams made statements early, dictating how each was going to play, and how they were going to defend one another. The game went back and forth through the entire first twenty minutes. On the shoulders of Nathan McCarthy (21pts 9rbs 13pts first half) the Marauders managed to take a 45-41 lead into the locker room. Lakehead had three players in double figures by half all with 11pts; Dwanye Harvey, Ben Johnson & Ryan Thompson.
The Marauders came out strong in the second half opening up their lead to ten, forcing Lakehead to call a timeout. The Thunderwolves answered quickly and the close back and forth game continued into the fourth quarter. Defensively in the second half McMaster's communication and lack of knowing their personnel showed, as Dwayne Harvey managed to run the same play multiple times and get the same exact result.
McMaster Head Coach Amos Connolly spoke to his teams inexperience and learning from tonight's game.
"We need to understand personnel better and that comes with experience. As hard as it is to accept this loss- we need to see this as a learning opportunity. We will watch ourselves as there is no better learning tool than film. We need to be ready for tomorrow."
At the 3:20 mark in the fourth Harvey tied the game at 70 from the foul line, and it continued back and fourth until the dying seconds. After a huge three pointer off the glass by the Marauders Adam Presutti (10pts, 8ast) with 19 seconds left it gave MAC a 75-74 lead, but the Thunderwolves Ryan Thompson answered back getting it down low and up over the defense to give Lakehead a 76-75 lead with eight seconds.
McMaster would have two more attempts to win the game, one on a broken down inbound from the sideline, that would then see Lakeheads Ben Johnson (19pts 5rbs) make two foul shots, and then a missed three point shot by MAC to end the game, giving Lakehead the victory 78-75.
The two teams will face off again tomorrow Saturday February 16th at 8pm in the second game of the back-to-back at the Burridge Gym.
NPH Top Performers
Lakehead
Ryan Thompson 22pts 5rbs 4ast
Ben Johnson 19pts 5rbs
Dwayne Harvey 18pts 4rbs 4stl
McMaster
Nathan McCarthy 21pts 9rbs
Joe Rocca 11pts
Adam Presutti 10pts 8ast
Aaron Redpath 10pts 4rbs *off the bench*