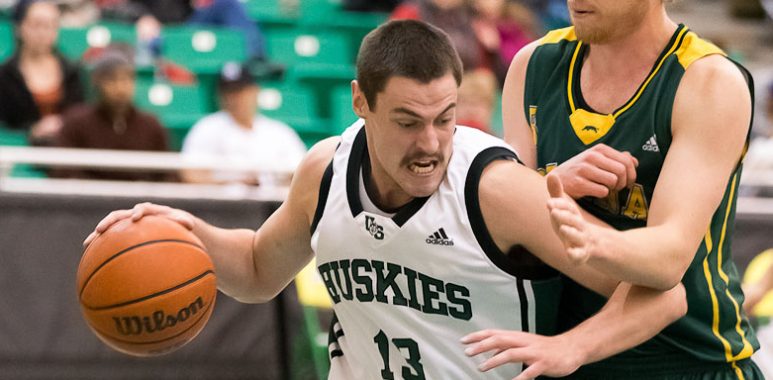 Matthew Forbes on a Tear…Saskatchewan Huskies Sophomore Putting Up Career Numbers!
Matthew Forbes, the sophomore forward for the Saskatchewan Huskies has been putting up numbers that are impossible to shy away from. Forbes, who was the top recruit in the province coming out of Lumsden HS, is having a terrific sophomore season and taking his game to a whole new level as of late.
The 6'6 versatile forward put up a career-high 40 points this past weekend on a sizzling 13/14 from the field in a victory over Winnipeg. To follow up, Forbes registered 30 points and 10 boards (13/20 FG) in another W over the Wesmen.
Forbes is the second leading scorer (18.2 PPG) on a strong Huskies team, behind only Stephon Lamar who leads the nation at 22 PPG, (alongside Max Allin of Wilfred Laurier).
The recent added production doesn't come as a complete shock as he's had big games throughout the season, but the timing couldn't have been better for the Huskies as we approach the post-season.
Not only is Forbes putting up jaw-dropping numbers, but he is also doing it with great efficiency shooting 60% from the field (Third in the Nation) and 47% from deep for the season. He currently sits at #19 in the nation in scoring for a 13-5 team that jumps up to #2 in the Canada West Prairie Division, behind only the 14-4 Alberta Golden Bears.
Forbes currently holds the #29 spot in the NPHTop50 and you could expect him to rise.
Matthew Forbes Season Statistics
| GP | PTS/G | FG % | 3PT % | FT % | REB/G | A/G |
| --- | --- | --- | --- | --- | --- | --- |
| 18 | 18.2 | 60.4 | 47.1 | 80.7 | 6.8 | 0.8 |