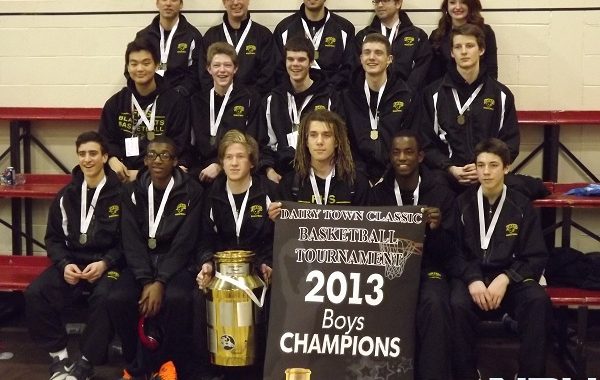 Sawyer Eddy, Stanley Mayambo & Fredericton Black Kats Dominate Competition to Win Dairy Town Classic!
Sussex, New Brunswick–When the ninth, tenth and eleventh man on a roster is as good as the top three players of most teams you play, chances are you will walk away as convincing victors. And that's what the Fredericton Black Kats did with an average margin of victory being 49.25pts in four games en route to the 2013 Dairy Town Championship. This isn't to discredit the other teams that attended the DTC, its that the Black Cats are just that good.
By comparison, St Mikes in the 2012 DTC marched through the competition with a 53 pt average margin of victory and was ranked as the #1 team in Canada by NPH at various points last year.
Jean de Brebeuf playing in their third straight DTC Championship game opened the scoring on a Simon Diallo-Blais jumper and that would be the only time they would hold the lead as the Black Kat's responded with a 9-0 run. Brebeuf continued to battle through the first quarter to give the exuberant crowd the looks of a competitive basketball game.  The two battled hard with the Black Kat's holding a slim 23-18 edge behind aggressive full court pressure and 13 pts from Sawyer Eddy (2014).
As the second quarter got under way, Fredericton notched up the defensive intensity, creating turn overs and run out opportunities. Paul Gerges and Alex Carty chipped in with nine points and Stanly Mayambo (2015) led the quarter with 10. Simon Diallo-Blais worked effortlessly to keep Jean de Brebeuf close but Fredericton's D forced him into tough spots on the floor as he led Brebeuf with six points in the quarter and his team trailed at half 57-31.
The second half looked the same as the first, with Sawyer Eddy taking the lead in the quarter with 10 points and this time being joined by Bryn Davies, who attacked the basket out of transition and dropped a three ball to net six points. However, the third quarter like the first quarter had a competitive flow despite the score which allowed Fredericton to cruise to a 22-19 quarter edge.
In the fourth quarter Fredericton got back to getting after Jean de Brebeuf again behind Val Nelsons strong defensive play and some solid offense, including a picture perfect cross over-pull up combination.  The Black Kats outscored Brebeuf by nine and cruised to the 98-60 victory.
Fredericton's athleticism was superior which caused many problems for Jean de Brebeuf but the real difference was in their skill refinement.  The efficiency at which Fredericton executed the basic principles and some advanced skills was superior to that of Jean de Brebeuf.  This was especially intriguing considering the Black Kat's only started one grade 12 in Alex Carty and their other grade 12 Bryn Davies came off the bench.
Jean de Brebeuf advanced to the final with a 98-50 victory over the Amherst Vikings with Fredericton advancing via a 112-48 victory over St Stephen.
NPH Top Performers
Fredericton
Sawyer Eddy 28
Stanley Mayambo 16
Paul Gerges 13
Bryn Davies 12
Alex Carty 12
Jean de Brebeuf
Simon Diallo-Blais 17
Maxence Coulombe 14
Jerome Lavallee 12
Tournament MVP: Sawyer Eddy, Fredericton High
All Stars: Jason Morse, Amherst; Dan McShane, St. Stephen; Simon Diallo-Blais, Jean-de-Brebeuf; Paul Gerges, Fredericton; David Bedard-Roy, Jean-de-Brebeuf
Top Defensive Player: Alex Carty, Fredericton
Bronze Game
St Stephen dropped the Amherst Vikings 79-64 behind 30 points from sweet shooting left handed guard Dan McShane (2013).
In a game that was tied at 33 at the half St Stephen broke out in the second half as they got more aggressive defensively and McShane took control offensively scoring the ball as well as distributing it.  Colin Merrill (2013) another nice shooting lefty and Devin Elsemore (2013) a 6-4 forward showed excellent support to McShane and kept the D honest.
5th Place Game
The home town Sussex Sonics trailed by double digits in the third quarter and behind some solid defense and clutch shooting from Marcus Robinson (2013), nailed a contested 3 with 4.5 seconds remaining to send the game to over time.
In the OT, Mitchell Folkins (2013) took over the leadership role by attacking the basket as well as getting offensive boards. Folkins had a lay-up, then a penetrate and kick to John Robinson (2014) for 3 and a late offensive board and another kick to Robinson for 3.  Sussex won 85-79
Girls Championship – Sussex vs Three Oaks
In the girls championship game the hometown Sussex Sonics played the Three Oaks Axewomen in a low scoring but very intense game in front of a packed and enthusiastic house that estimates at about 800.
The Sonics who became the "cardiac kids" of the tournament needed a last second shot from Taneesha Talling in a preliminary game to earn a semi final birth as well as a semi final comeback win in OT against Bernice MacNaughton.
The Axewomen pulled off a stunning upset in the other semi final against Kennebecasis who has been cruising through competition all year.
These two teams really banged it out in a physical battle in the first half where a 4 point lead obtained early by Sussex seemed insurmountable.  Sussex led 24-16 at the half behind strong play and leadership from Kennedy Baird (2015).
Sussex extended its lead to 12 points midway through the third quarter but behind strong play from Charlotte Thompson (2014) Three Oaks was able to claw back to within 4 points in the fourth quarter.
Kennedy Baird's leadership and shot making were very efficient throughout the second half as every time Sussex needed a big play or shot made she was there.  Sussex held on and claimed their first Dairy Town Classic Championship in school history 61-51.
NPH Top Performers
Sussex                                         Three Oaks
Kennedy Baird 23                     Charlotte Thompson 12
Tournament MVP: Kennedy Baird, Sussex
All Stars: Abby MacDonald, Kennebecasis Valley; Grace Wade, Bernice MacNaughton; Michaela Walker, Three Oaks; Tiffany McLong, Taneesha Dalling; Sussex
Top Defensive Player: Becky Clarke, Three Oaks