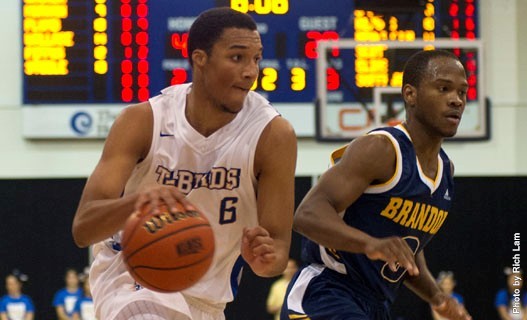 UBC Thunderbirds Size and Depth Too Much for Brandon, Brylle Kamen Registers Big Double-Double
On Friday night, the UBC Thunderbirds beat the Brandon Bobcats 90-75 in a game that was much closer than the score would indicate.
UBC took a 13-point lead into the half but allowed Brandon to storm back in the third quarter, eventually closing the gap entirely midway through the fourth. When UBC pulled back out ahead by 12, Brandon threatened once again, narrowing it to a two-score game.
In the final minutes, UBC managed to pull away and extend the margin of victory to the misleading final figure. Letting Brandon back into the game twice is something that UBC has dealt with before, as their third quarter performances have sometimes lacked the energy of the other three quarters.
"It's a bit of a recurring theme for us," said senior guard Doug Plumb. "Our third quarters have been a bit suspect. It's like we're content to win by 20 when we could win by 40."
Head coach Kevin Hanson was more at ease than frustrated, though, chalking it up as a learning experience for the team as they continue to learn to win different types of games.
"I thought it was a good game," said Hanson. "You have to win all kinds of games in a season as long as ours. Basketball is a game of runs and we made our run at the right time."
The initial comeback was buoyed by a hot-streak from long-range for Michael Smith, who hit triples on three straight possessions in the third quarter to help shrink the margin. Jordan Reaves also played a big part for the Bobcats, scoring 12 of his team-high 18 points in the second half.
For UBC though, Ilarion Bonhomme was perhaps the most difficult check. Although he shot just two-of-10, he lived at the free throw line and finished with 12 points, four rebounds and five assists. The UBC guards forced him to make six turnovers, though.
"It's a work in progress," said Hanson of his freshman point-guard duo, Jordan Jensen-Whyte and Isaiah Solomon. "They're young and they're trying to lead a bunch of older guys. I thought they did a great job in spurts."
Plumb helped stem the tide in the fourth by making several key tough buckets and finished with 17 points. He was helped out by Brylle Kamen, who had an excellent game but saved the best for last with a crucial put-back and-one play late. Kamen finished with 17 points and 16 rebounds, including 10 on the offensive glass.
"This game was never easy," said Kamen. "It was a tough game to the end. That (and-one) came at a good time."
O'Brian Wallace had a team-high 18 points, including four three-pointers that helped keep Brandon's second-half three-point barrage from swinging the momentum too far. David Wagner joined Kamen with a double-double with 13 points and 10 rebounds.
As always, UBC also leveraged a big rebounding edge, grabbing 26 more boards than the Bobcats, helping offset a deficit in turnover margin. The Thunderbirds also took 34 free throw attempts, helping the offense on a night they shot just 41%.
UBC will host Regina on Saturday night at the War Memorial Gym. Tip-off is at 7 p.m.  Brandon will travel across the Strait of Georgia to play Victoria on Saturday.