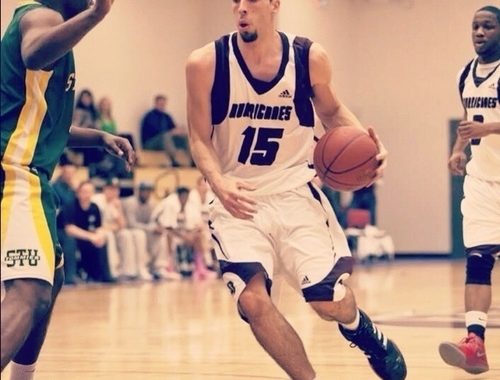 Chase Bowden Registers Double-Double, Mike Hardy Ignites Holland Off Bench in Victory Over Kings College
By Geordie Carragher
Charlottetown, PE–Even with six weeks off the court, the Holland College men's Hurricanes basketball team is finding ways to get the job done.
Holland College, ranked sixth in the most recent CCAA rankings, kicked off a four-game homestand in style, defeating the University of King's College Blue Devils 85-62 in ACAA action on Saturday.
The win gives Holland College a record of 8-1, good for a one-game lead over the Crandall Chargers for top spot in the ACAA.
It also stretches Holland College's winning streak to five games dating back to Nov. 17, and the margin of victory has been an average of 16 points over that span.
Hurricanes head coach George Morrison was fairly pleased with his team's efforts.
"We played more people than what we normally play, and that's by design, so as far as today goes, I'm definitely pleased, but it wasn't totally perfect, so we have things to work on."
Mike Hardy paced the Hurricanes attack, coming off the bench to score 16 points to go along with three steals with less than 15 minutes of playing time.
Hardy provided a spark off the bench, said Hurricanes centre Chase Bowden, who registered a double-double with 13 points and 11 rebounds while adding four assists. "He just came out today and was ballin', and he just took over when we needed someone to score."
Meanwhile, Thomas Watson led the Blue Devils with 18 points and five rebounds.
Turnovers were a big story in the game, as King's College committed 36 turnovers to Holland College's 21.
The game was closely contested through the first five minutes before Holland College took off on a 15-2 run to end the first quarter up 24-10, in the process building a lead they wouldn't relinquish.
Getting off to a quick start was important following the extended layoff, Bowden said.
"Everything started clicking for us, so it was just to get out there and get a big lead and not letting up." Establishing the winning mindset early was important, Morrison said.
"It's always important to get off to a good start if you can. We had beaten these guys before Christmas, so I thought it was important to start strong and not psychologically give them the thought that they could win this game."
An 8-0 run in the second quarter helped the Hurricanes build their lead to 40-23 at halftime.
In the third quarter, King's College put together a 10-0 run to close the gap to 49-36, but quick baskets from Leo Morris and Alvin Parker restored a more comfortable margin for the Hurricanes, as they never led by less than 16 points afterward.
"Our team is just so talented that whenever something seems to go bad, someone seems to step up to help us get the lead and momentum right back," Bowden said.
From there, Holland College kept pulling away until the final buzzer sounded.
The Hurricanes will look to extend their winning streak to six on Sunday, when they take on the Dalhousie Agricultural College Rams at 3 p.m. at the Centre for Community Engagement in Charlottetown.
Establishing momentum is key heading into big games against Crandall and the Mount St. Vincent Mystics next weekend, Morrison said.
"We just want to play well and we want to execute. We can't afford to develop any habits off poor execution that will carry over into games where competition will be stronger."
The Hurricanes will not look past the Rams, Bowden said.
"They've been struggling so far this year, but we don't want to take them lightly. We should be able to get that W, but we have a tough weekend coming up, so we want to take as much momentum as we can get out and just go all out."