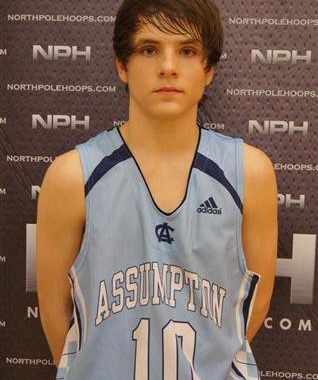 Introduction Of New Junior Prospects at Rim Rocker, Assumption's Kris Rottema Lighting Up
MISSISSAUGA, ON–The Xavier Rim Rocker for years has been known as the top junior tournament. Last year the Father Henry Carr Crusaders took home the 2012 championship, with Jalen Poyser leading the way as MVP. In 2013, its a whole new crew of hard-nosed competitors who could potentially repeat for the Crusaders. Asides from this team, there are other squads with scattered prospects who are worth keeping tabs on throughout the season; many of which are at the guard position.
If you're stepping up against FHC, be prepared to battle and be physical. The starting line up is made up of pesky defenders and relentless scoring options. Grant Audu, the younger brother of Sienna Saint, Richard Audu, is FHC's leading scorer. He is surrounded by a strong unit in Carlo Dubria, Anthony McNish and Kyle LeFave.
A standout prospect in the tournament thus far has been 2016 point guard Kris Rottema. He stunned the crowd on many occasions by breaking his man down with hesitation and double crossovers. He is a Hamilton, Ontario product out of Assumption, which is a school whose basketball program has been suffering for the past two years. I would like to think of Rottema as the piece that will guide this team to their resurrection.
Plain and simple, this young PG brought a package to the floor and a will to win which rubbed off on his teammates. The supporting cast is not a very skilled, but they worked like horses in the rebounding category and avoided many second chance opportunities while they were on defense.
Three point shooting, controlling the offense, bringing up the ball, pressuring ball handler on defense…and the list goes on. Rottema has a lot of responsibility on his shoulders and it was promising to see how well he handled the load. He played a part in almost every posession and was solely responsible for the final win in pool play against Xavier where he made the team's final three shots and picked up three steals in the fourth quarter.
Ontario's west end, specifically Hamilton, has been making itself a recognized area for player development from a young age. Fourteen year old Joshua Nardini of Cardinal Newman displayed strong ball handling abilities in one-on-one situations as well as under pressure against a full court press. He was apt to get off his own shots, including step back threes.
These and many more will be added to the 2016 and 2017 classes with full player evaluations. Today playoff rounds will commence and we will have a good look at a few more  schools such as St. Marguerite D'Youville and Bishop Redding. The finals of the Xavier Rim Rocker will be held at Xavier tomorrow at 3:30pm.
The schedule is as follows.
Saturday, Jan 12
Games @ Xavier
9:30 Playoff 1: 
Bishop Reding
 v 
Notre Dame (Brampton)
10:50 Playoff 3: 
Monsignor Johnson
 v 
Mother Teresa
12:10 Playoff 5: 
Father Henry Carr
 v 
Mount Carmel
1:30 Playoff 7: 
St. Jean de Brebeuf
 v 
Assumption
3:00 QF1: Playoff 1 v Playoff 2
4:20 QF2: Playoff 3 v Playoff 4
5:40 QF3: Playoff 5 v Playoff 6
7:00 QF4: Playoff 7 v Playoff 8
Games @ Pocock
9:30 Playoff 2: 
Jean Vanier
 v 
Holy Trinity
10:50 Playoff 4: 
St. Marguerite D'Youville
 v 
Notre Dame (Ajax)
12:10 Playoff 6: 
Campion
 v 
St. Thomas More
1:30 Playoff 8: 
Pope John Paul
 v 
St. Roch
Sunday, Jan 13
Games @ Xavier
9:00 SF 1: QF 1 v QF 2
10:20 SF 2: QF 3 v QF 42:00 Bronze Final: SF Losers
3:30 Gold Final: SF Winners