Nik Stauskas Credits Family & Team For Making Him a Top Shooter in America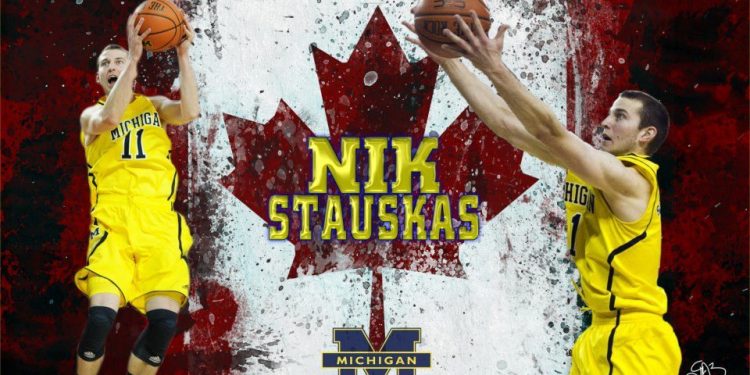 Who would have thought that a freshman from Mississauga, Ontario would begin his college career by starting at a high major division 1 NCAA program, helping Michigan become the second-ranked team in the nation, and reign as the NCAA's top three point shooter?
Very few of us predicted Nik Stauskas would have this much success so early on, but the dead eye sniper is shooting down all his non-believers with a 54% accuracy rate from beyond the arc.
The 6-foot-6 nineteen year old is averaging 13 ppg making him the third leading scorer on a team stacked with NBA prospects, including Tim Hardaway Jr and Trey Burke. From his numbers, its clear Stauskas doesn't let the high level of talent on his squad phase him, in fact, he uses it to his advantage.
"Playing with guys like Trey Burke (who in my opinion is the best point guard in America right now) helps my game a lot. Trey is a very gifted passer and he looks for me on the wing a lot especially in transition," Stauskas told NPH.
"Not only does he draw a lot of attention and get me open looks, but I also get to see first hand how hard you have to work to be one of the best players in America. Seeing him in practice every day makes me realize how much harder I have to work if I want to get to his level," he continued.
Stauskas is already one of the best in his own right, currently shooting 44 of 82 from deep helping the Wolverines to a 15-0 undefeated start.
Opposing teams undoubtedly have Stauskas on the scouting report as a three point shooting threat, but his long physical frame and ability to play off his teammates allows him to continue burying opponents. This past Sunday, Michigan trumped a solid Iowa squad 95-67. Stauskas shot 3-6 from three and finished with his average of 13 points.
"I have great teammates who make an effort to give me the ball when I'm open, so that obviously helps me get open looks. As far as what separates me from others, I think it's just repetition. I've spent thousands of hours trying to perfect my jumper, so my confidence is very high. At this point it doesn't matter how many shots I miss in a row, I always believe that the next one has to go in."
Stauskas has possessed this strong-willed mentality since high school, which was evident through his development. He was NPH #2-Ranked Canadian prospect in the class of 2012, only behind Anthony Bennett (UNLV) out of Brampton, Ontario.
One thing that still lies fresh in our minds about this Canadian wonder is a recent youtube video of him on his StauskasBasketball channel titled, "2012 Xmas Nik Stauskas attempts to hit 45 out of 50 three pointers."
Its a short clip of Nik shooting and his father rebounding in a basic shooting drill in their backyard. Stauskas goes on to fulfill his attempt, using his smooth stroke to effortlessly drain 45 long range jumpers. When asked about the video and how integral his family has been to his success, he told us:
"I owe my family everything. Without them I would not be playing basketball at Michigan right now. My dad was the one who spent thousands of hours with me in my backyard helping me with my game. My mom supported me in everything I did and came to pretty much every single one of my games growing up. My brother was actually the one who motivated me to become the best I could be because I hated losing to him," explained Stauskas.
"Because he's three years older than me, he always played rough with me and I think in the long run that helped because it made me tougher and taught me how to create my own shot against stronger, faster and bigger defenders. My family has done so much for me and I owe all my success to them."
[youtube ZPp1D5qZB0Y]
Stauskas has already been named BIG 10 freshmen of the week on three separate occasions and is showing no signs of slowing down. Its not just his three point shooting ability that makes him a good basketball player, he has the full package: a high level of intelligence, good body control, ball handling, unselfishness and passing ability. There is still work that needs to be done though if he wants to achieve his aspirations.
"To max out my potential and become the best player I can be, I just have to outwork everyone around me. I feel like my offensive skills are almost where I want them to be, and the only thing that is stopping me from becoming the player I want to be is my physical strength and toughness," he explained.
Stauskas has had extensive conversations with the Michigan coaching staff with regards to his development following the season. The Mississauga native has decided to remain in Ann Arbor from April to August to work on his body as opposed to going home.
"I think that this off season will be key for me because I'm going to be able to work with my strength coach individually without any distractions that I may have when I would be at home."
In the meantime, business is in order. The Michigan Wolverines are on a mission to capture an NCAA national championship for the first time since 1989. Presently, the team looks to be on a special run due to the talent level and chemistry they are playing with.
Michigan has a chance to make history this season…and who would've thought this Canadian would have an integral role to play?
Nik Stauskas did.