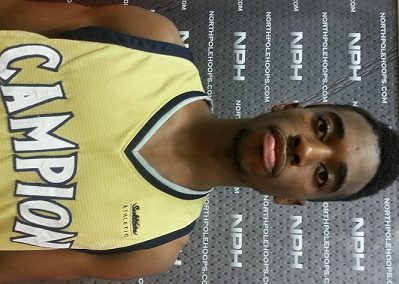 Kedar Wright Steps Up to Challenge as Campion Takes Down Patrick Pilato and St Francis
MISSISSAUGA, ON–Lets talk about a player, that at the beginning of the high school season had little buzz and even less recruitment.
St. Edmund Campion's combo guard Kedar Wright has earned his stripes over the last few months, and against St Francis' highly touted guard Patrick Pilato, "Krafty" stepped up in a major way to life Campion 79-70.
Wright lead all scorers with 20 points while putting on a defensive clinic, holding Pilato to 14 points –a player accustomed to averaging 20+ PPG. Wright picked up Pilato full court for the entire game and applied pressure, making him uncomfortable…all in front of several CIS coaches including UBC, Wilfred Laurier, Bishop's, York and Laurentian to name a few.
"Coming into the game I had watched him a few times…I took it upon myself to guard him the whole game and I think I did a pretty good job," Wright told NPH.
"I didn't want to give him any space, wanted him to take as little three point shots as possible."
The plan worked to perfection as Pilato didn't attempt many, but to his credit, did a fantastic job as a catalyst. The St. Catherines product continuously made smart decisions and created for his teammates, racking up at least 10 assists on the game.
It was a treat to watch two high level guards, and two well coached teams compete at a high level in a positive manner. On one particular play, Wright was beat to the hole but remained with the play to pick up the block on Pilato leading to "Get that out."
Following Wright's growl, he picked up St Francis' 6'2 point guard and shook his hand out of respect.
While the Wright-Pilato match up was taking place, a young and promising talent came to light, with ninth grader Abu Kijab posting a team-high 18 points for St Francis. Kijab at 6'3 possesses length and is effective around the basket, while also showing the ability to handle, but limited in this regard.
As he continues to grow and develop, NPH will certainly monitor this young prospect.
With the victory, Campion moves on to match up against NPH #1-Ranked Father Henry Carr, still undefeated.
Mount Carmel Rolls Over Notre Dame
OLMC looks to be picking up steam, defeating Notre Dame (Ajax) by 20+ and gaining confidence in the process. Mount Carmel has the necessary pieces to remain an upper echelon team; size, length, athleticism and guard play. They will take on Jean Vanier in the Xavier Rim Rocker Semi-Finals.