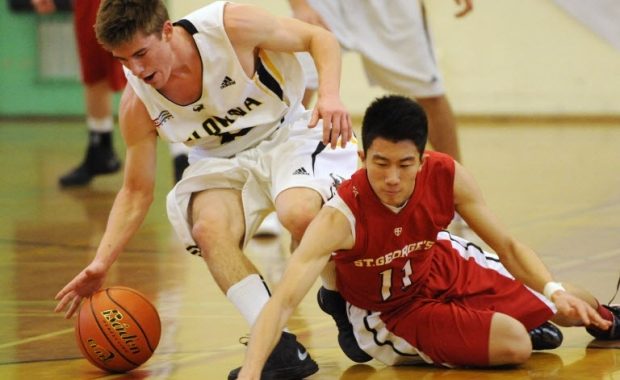 John Katerberg, Buzz Truss Carry Kelowna Owls Past St George's, Advance to Telus Classic Semi-Finals
Vancouver, BC – The St. George's Saints have played a few games now with new head coach Bill Disbrow, who recently took over for the departing Guy DaSilva. Disbrow has begun his tenure at St. George's with a very talented team and making progress, however the Saints fell short against Kelowna 76-72 in an exciting game to kick off the second round of the 2012 Telus Basketball Classic.
The Saints got off to a quick start with some good interior defence and quick transition hoops. The Owls weren't about to give up that easily, after a quick time out and a bit of regrouping Kelowna came back strong by attacking the fierce offence of the Saints with a tight knit press. Causing countless turnovers, the Owls were able to capitalize and create seperartion.
Leading the way for Kelowna was John Katerberg. The Owls point guard pairs tight dribbling abilitiy with a quick release, and showed he was capable of shooting from deep, while contributing defensively as well.
Buzz Truss also played very well for the Owls, providing some interior offense, making countless layups and playing well in transition.
This game had all the makings of a battle early on.
Turnovers played a key role in St. George's loss as they committed an astonishing 30 turnovers. The Owls press and zone combination worked very well and had the Saints in a lot of trouble as they tried to progress the ball over half court. This allowed Kelowna to open up a comfortable lead.
Once the Saints gathered their composure, they came back with intent to take over, making very nice runs of their own with a combination of deep shots, transition hoops and three point plays.
The Saints offence came from 6 foot 8 inch Drew Urquhart as well as small forward Tylon Barker. Urquhart scored with an array of post moves, offensive put-backs, dribble moves and deep shots beyond the arch. Urquhart, who at times was quiet, played silky smooth and showed off his fluid jumper. He also accounted for most of the rebounds for the Saints and played with a nose for the ball.
Barker showed off his athleticism early and provided scoring in crucial times. With Barker's size and strength he was able to get into the paint and finish with contact. Finishing the hoop with the harm on multiple occasions.
Will Chamberlain came ready to work with his hard hat, playing very sound defence, diving for loose balls, and creating extra possessions by fighting for jump balls.
Late in the game, the Saints made a statement and came back to cut the deficit, creating an electrifying atmosphere and putting on a show for the crowd. This game came all the way down to the wire with the scoreboard reading 75-72 and Saints having the ball with a chance to tie.
Coming out of the huddle with a play drawn up, point guard Deklan Chung had a clean shot in the dying seconds, to force overtime,  but missed it.
With the victory, Kelowna moves to the semi-finals of the Telus Classic to take on Luka Zaharijevic and the rolling Kitsilano Demons.
NPH TOP PERFORMERS
St George's Saints
Drew Urquhart 19 points
Tylon Barker 14 points
Kelowna Owls
John Katerberg 26 points
Buzz Truss 19 points