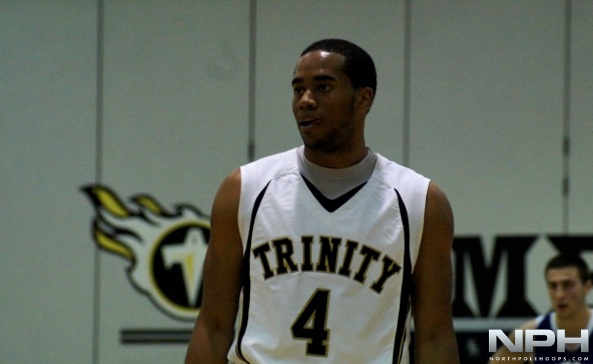 Nolan Mackenzie Drops Game-high 23, Trevon McNeil Closes out D'Youville as Holy Trinity Remains Undefeated Early
NPH Top Performers
Holy Trinity
Nolan Mackenzie- 23 points, 6 rebounds, 5 assists
Trevon McNeil- 15 points, 5 rebounds, 6 assists
Regis Ivaniukas- 14 points, 3 rebounds, 2 assists
Nick Ernest- 11 points, 4 rebounds
D'Youville
Josiah Riley- 19 points
Kenny Ejim- 11 points
James Agyeman- 8 points
OAKVILLE,ON–The Holy Trinity Titans entered their third pre season game undefeated with their biggest challenge itching for an opportunity to take down the #10 ranked team in the nation. The D'Youville Panthers (Brampton, ON) battled for three and a half quarters, until star guard Trevon McNeil proved to be big time hitting clutch shots to seal the deal 72-61.
"Trevon is usually our main scorer, we go to him when we need a bucket but we have a lot of other guys that are smart, can make the extra pass and hit shots," explained Nolan Mackenzie, who recorded a game-high 23 points.
Mackenzie had an excellent all around game scoring in transition, nailing three-pointers as well as feeding team-mates on the break. Multiple universities including UofT, Ryerson and Western were in attendance scouting Mackenzie along with a few other prospects on the floor.
Holy Trinity had control over the majority of the game, however D'Youville remained competitive thanks to their length, speed, depth and defensive pressure.
It wasn't until four minutes left in the game, where McNeil took it upon himself [as most leaders do] to take over.
First, McNeil attacked the defense hitting a tough, off balance pull up jumper, followed by dishing out to Mackenzie for a three-point dagger that put the game out of reach.
"I feel like us as a unit, can close out a game; it just so happens this time I was the one to do it. At our one, two or three positions, all three of us can close it out," McNeil humbly explained in the post game.
Although modest, he is right. Holy Trinity once again had strong contributions from Regis Ivaniukas and Nick Ernest who added 14 and 11 respectively.
6'8 Ernest, a true inside presence to go with an able shooting stroke said, "I'll use my size to body people around, I'll use what I got." Ernest has come a long way in his development over the past year, trimming down and becoming more of an impact player.
As a result, the versatile four-man has seen his recruitment pick up, hearing from CIS programs such as York, McMaster and UofT to name a few.
Outside of the previously mentioned quartet (McNeil, Mackenzie, Ivaniukas, Ernest), it is fair to say that their main weakness will be their lack of depth.
Mackenzie thinks otherwise.
"People say that but it's early in the pre-season. We actually have two or three pieces coming up from the junior team that people will be surprised about as the season goes on…only time can tell."
For D'Youville, it was Josiah Riley (2015 6'3 Wing) who impressed as he attacked the bucket and was able to finish nicely around the rim, posting a team-high 19 points.
Kenny Ejim added 11 points including a couple of dunks. The 6'6 forward is the younger brother of Iowa State star Melvin Ejim, with size and athleticism evident in the genetics.
Holy Trinity now moves to 3-0 on the pre-season, and are ready for the real deal, according to their leader Trevon McNeil.
"There are teams that want to beat us; fun and games are over, it's time for business…the season is starting."