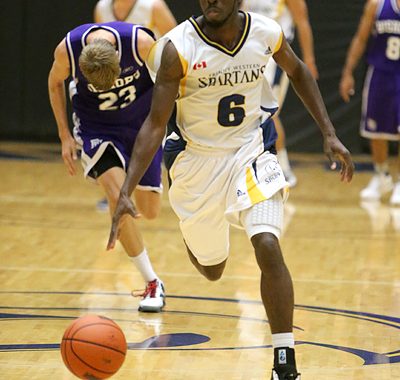 NPH CIS Preview: Trinity Western Spartans
Last Season:
| | | | | | | | |
| --- | --- | --- | --- | --- | --- | --- | --- |
| Overall | Pct. | Conf. | Pct. | Streak | Home | Away | |
| 10-8 | .556 | 10-8 | .556 | W 6 | 6-3 | 4-5 | |
Head Coach: Scott Allen
Assistant Coaches: Ron Walker, Matt Boulton, Cal Wirch, Bill Ruby
2011-12 Record: Regular Season: 10-8 (Canada West)
Key Players: Tristan Smith, Tonner Jackson, Eli Mara, Mark Perrin, Denny McDonald
Incoming Recruits: 
Lucas Goosen – 6'2", Ladner, BC / Delta Secondary
Kristophe Baerg – 6'4", South Surrey, BC / White Rock Christian
Matt Blackaby – 6'2", Maple Ridge, BC / Pitt Meadows Secondary
Jesse Hilleary – 6'4", Logan, Australia / Trinity College
Denny McDonald – 6'5", Mississauga, ON / Sheridan College
Jonathan Pelling – 6'4", Tsawassen, BC / White Rock Christian
Mark Perrin – 6'1", Toronto, ON / Humber College
Departures: Calvin Westbrook
The Trinity Western Spartans are hoping to remain competitive during the early portion of the Canada West season, and if all goes according to head coach Scott Allen's plan, they will be very dangerous team in the second half of the year.
With a tonne of new faces, and injured starters [Tonner Jackson, Eli Mara] on the sidelines to start the season, the Spartans will be relying on their lone fifth year player, Tristan Smith, and two talented Ontario transfers, Mark Perrin and Denny McDonald, to carry the load.
However, Coach Allen stressed that developing the younger players and the team's chemistry will be the key to success this year due to the Spartans being in a rebuilding year.
"We've got to stress the fundamentals with these guys. A lot of them are behind that way; they're not as seasoned. We're missing fourth and fifth year guys, who would have another year underneath their belt, and all the reps of shooting."
TWU will focus on improving their chemistry, an element that will enter the picture with experience, but this team has enough fire power to carry them throughout the first half of the season.
"I think we have great athleticism but the ability to play together is going to take a while to develop. We probably won't hit stride until after Christmas time, but we understand that so just trying to get wins in the first part of the season is key for us."
The Spartans will look to for veteran guidance from their lead guard Tristan Smith (fifth year) who thrives at getting to the hoop, along with the ability to distribute.
"Tristan is going to be in more of a scoring role this year, at least until the other guys understand how to score at this level."
Eli Mara, Tonner Jackson and a pair of Ontario College transfers in Mark Perrin & Denny McDonald will also be expected to contribute immediately. However, Perrin and McDonald will be making a minor adjustment as they settle in against CIS competition.
"They are both supreme athletes. In Canada, they are probably two of the top athletes, I think. They just need to harness it a little bit, and understand when to go hard. Coming from a college level, they have realized everybody is a bit stronger, and they have to be a lot better in making decisions."
6'6" forward Kurtis Osborne, who had the highest shooting percentage last year in the Canada West, understands his role for the team, and excels in it.
A couple of freshman guards that are showing signs of development are Lucas Goosen and Matt Blackaby.
"Lucas is learning right now, and trying to fill in behind one of the point guards. He's extremely talented, and extremely athletic."
As for 6'2 Matt Blackaby,"He's a guy that never quits, he fights through every situation, and can bring a lot of energy to the team. He's done a great job improving his shot."
TWU realizes they are smaller than most teams, however all five starters can put the ball on the floor and get to the rim, which will cause teams to zone up.
The makings of this team will allow the Spartans to bring an up tempo approach, but in the meantime, the pieces are still coming together.
"Our biggest issue now is a trust issue. It's about understanding who's who, and what your role is on the team. We are establishing that right now, and the guys have been accepting of what we say."
The Trinity Western Spartans look to have a deep and talented roster…if they are able to get healthy and follow Coach Allen's direction, this young group could find itself in the mix for a playoff spot in the Canada West.