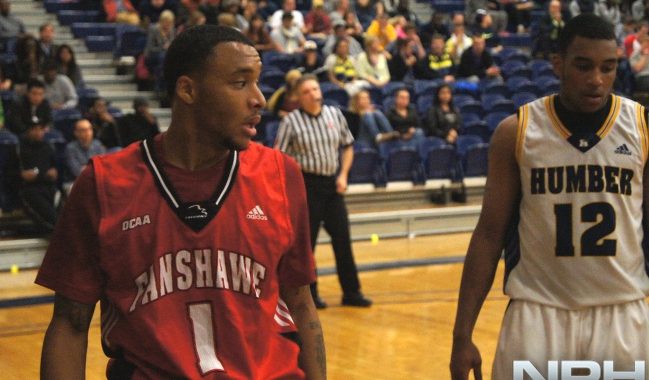 Boyd Vassell Spearheads Fanshawe Double-Overtime Victory over Humber!
NPH Top Performers
Fanshawe
Boyd Vassell- 28 points, 3 rebounds, 6 assists
Ryan Pflanzner- 14 points
Mike Dubruil- 13 points
Gareth Edwards- 9 points, 4 rebounds
Troy Barnes- 8 points, 8 rebounds
Humber
Matthew Marshall- 26 points, 14 rebounds
Brett Neumann-18 points, 11 rebuonds, 3 assists, 3 steals
Ancil Martin 20 points, 2 rebounds
TORONTO,ON–After being knocked out of the first round of the OCAA championships last season by Humber, it was payback for Fanshawe. The London contingent entered the Hawks gym and were ready to compete. The Falcons applied defensive pressure for virtually the entire game, until finally cracking Humber in double overtime, picking up the victory 97-94.
Fanshawe, who finished with a 12-6 record last year are entering this season on a mission. With first year Head Coach Tony Maroctullio on the bench, a new culture and intensity is born. Marcotullio holds a strong influence in the London basketball community, previously head coach of the city's powerhouse program, H.B Beal.
"Practice is more aggressive and you can see it in all the players. We're more hungry," player of the Game Boyd Vassell told NPH.
Vassell (second year point guard), was extremely efficient, registering a game-high 28 points on 7/11 shooting from the field, 11/13 from the free throw line, along with a game-high six assists.
Fanshawe's defensive pressure managed to force 30 turnovers against Humber, who have a fresh new crop of players adjusting to the team and CCAA basketball.
Matthew Marshall, former Ottawa Gee Gee, posted a monster game with 26 points and 14 rebounds, while letting the game come to him, shooting 9/15 from the field. Brett Naumann added a double-double of his own with 18 points and 11 rebounds.
However, the Hawk's production was not enough as they made too many crucial mistakes down the stretch including turnovers, forced shots and a lack of patience. At the same time, Fanshawe's Vassell shared similar feelings about his team in the first OCAA game of the season.
"Honestly, execution is the main thing for us…we are coming down the court with no focus…execution is big."
And the Falcons did enough execution to squeak out the win, hitting big shots in both the first and second overtimes to take back leads. Ryan Pflanzner, Mike Dubruil, Gareth Edwards and Troy Barns complimented Vassell in sealing the deal on both ends of the floor.
According to Vassell, in order for this team to take it to the next level, he will need to set the tone.
"I have to show myself on defence because the team feeds off me as the point guard and leader on the team, I have to set the standard. I have to bring it everyday in practice, I have to show them I'm serious…I want it."