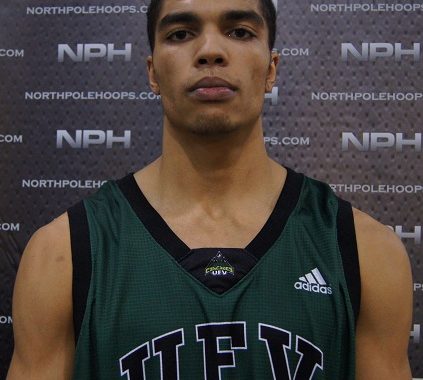 Sam Freeman, Kyle Grewal Lead Fraser Valley Over Langara
NPH Top Performers
Langara Falcons
Brody Greig – 9 Points, 6 Rebounds, 6 Assists
Garrett Ling-Lee – 10 Points, 3 Rebounds, 1 Assist
UFV Cascades
Sam Freeman – 19 Points, 2 Rebounds, 1 Assist
Kyle Grewal – 14 Points, 3 Rebounds, 1 Assist
Jordan Blackman – 10 Points, 1 Rebound
ABBOTSFORD,BC–In the second game of the Honda Way Basketball Weekend, the host University of the Fraser Valley Cascades, took advantage of a short-handed Langara squad, and ran past the Falcons 75-60.
UFV received contributions from all the usual suspects: Sam Freeman, who has expanded his offensive game, poured in 19; Kyle Grewal  logged a team high 31 minutes and chipped in 14 points, despite shooting just 5-14 from the field and 0-5 from three; and Jordan Blackman had 10 points, all of which were scored during a second quarter flurry.
With the Cascades in control for most of the game, Coach Friesen was able to give his three freshmen an extended look. 6'5" forward Andy Khaira played well in a starting role, collecting eight points on 2-3 shooting and 4-5 from the line.
Khaira is a big, mobile body, and he has the luxury of playing alongside Kyle Grewal on the front line. Grewal was vocal all game, directing the freshman to the correct spots on both ends of the court.
Luke Morris, a 6'5 shooter, had a tougher evening. In 14 minutes off the bench, Morris registered just 2 points on 1-5 shooting and 0-3 from three. 6'3" point guard Manny Dulay played 17 minutes off the bench, and showed flashes of good decision making, but he is still very passive in looking for his own shot.
For Langara, 6'3" point guard Brody Greig was even better than advertised. The third year guard controlled the tempo of the game and displayed excellent court vision, routinely finding teammates for open shots, or hitting them in stride on the break.
Greig had no trouble reading a defence that is likely quicker and a bigger than what he is used to seeing in the CCAA. Greig finished the game with six assists, but he could have easily doubled that number if his Falcon teammates – who definitely showed signs of rust, after not having played a meaningful game in over two weeks – were able to convert some of the many opportunities that Greig created.
The Falcons, who were already playing without 6'5" guard Elliot Mason, lost centre Devin McMurty to an injury, and only played 6'7" forward Jitt Lohcham sparingly. The lack of size showed as they were unable to keep UFV off the offensive glass, and gave up a number of second chance opportunities and extra possessions.  Langara Coach Paul Eberhardt mentioned that his team was "definitely short on bodies this game."
The Langara Falcons are next in action on Saturday when they host the UNBC Timberwolves at 1pm.