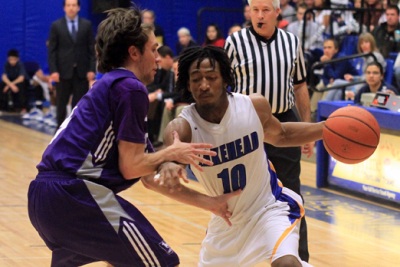 Greg Carter Carries Lakehead in Victory Over Feisty UNBC Timberwolves
NPH Top Performers
Lakehead Thunderwolves
Greg Carter – 23 Points, 5 Rebounds, 5 Assists, 1 Steal, 1 Turnover
Dwayne Harvey – 15 Points, 3 Rebounds
Ryan Thomson – 9 Points, 5 Rebounds, 3 Assists
UNBC Timberwolves
Francis Rowe – 18 Points, 1 Assist, 2 Steals
Joel Rybachuk – 17 Points, 2 Rebounds, 1 Assist
Charles Barton – 10 Points, 6 Points, 1 Steal
Abbotsford, BC – In the opening game of the second Annual Honda Way Basketball Weekend, the Lakehead Thunderwolves used a patient attack to create a number of easy baskets, and were able to hold off the hot shooting UNBC Timberwolves, 88-72.
UNBC was led by their starting backcourt: Joel Rybachuk, who scored 17 points, including 2-3 on threes and 5-5 from the line; and Francis Rowe, who shot 8-10 from the field for 18 points, on a number of tough pull up jumpers.
For Lakehead, fourth year point guard Greg Carter led the way with 23 points, 5 rebounds and 5 assists. The 5'10" Carter ran the Lakehead offense to perfection, using a combination high screen rolls, dribble hand offs, and quick cuts to create great looks for himself and his teammates.
Guard Dwayne Harvey (4-5FG; 7-8FT) and forward Ryan Thomson (4-5FG, 5 rebounds, 3 assists) both had efficient games for Lakehead. The 5'10" Harvey was aggressive in looking for his own shot, getting to the hoop numerous times, and excelled in creating contact and getting to the free throw line. Thomson, the 6'7" fourth year forward, only played 21 minutes but displayed a soft touch around the basket, and great vision; finding cutters for layups and setting up perimeter shooters for open looks.
The Lakehead offence, especially in the second half, was a joy to watch. It was simple, well executed basketball, and had the Thunderwolves been able to capitalize on a few more of their attempts from the three point line – they shot 5-22 (23%) for the game – they would have given themselves a bit more breathing room, and won the game going away. However, for the game, the Thunderwolves still shot an impressive 54% (31-57) from the field.
Lakehead Head Coach Scott Morrison shared his thoughts with NPH after the game:
"UNBC was tough, we really couldn't take a possession off, they keep coming at you. They have some pretty tough guards that can fill it up."
On the game: "I thought our guys showed some toughness of our own in the fourth quarter and got the stops necessary to finish the game off. Earlier in the game I thought we did a good job of exploiting our size advantage, but by the same token, they kind of took that away later."
On Greg Carter: "That's Greg right there. He's a winner, and he's been a winner at every level. We had the chips stacked against us today, with some injuries, but Greg put us on his back for a good portion of the game, on both sides of the ball. That's why he's one of the best players in the conference."
On Ryan Thomson: "We're kind of banged up, even Thomson was playing with basically one arm, but he did the job on the defensive end and was a presence in the paint."
On the matchup with UFV: "It's going to be tough. We're going to have to see what we're made of in terms of toughness and depth. This will be our sixth game in nine days on the road, but everyone in that locker room knows that we kind of owe these guys one if we can, after last March, so we'll be giving it all we got."
Lakehead will have the chance to avenge their CIS Final 8 loss to UFV when the two teams meet tonight at 6pm at the Envision Athletic Centre.