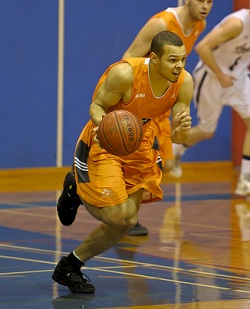 Manny Campbell, Andrew Cicuttini Lift Mohawk Over Centennial
NPH Top Performers
Mohawk
Andrew Cicuttini- 24 points, 11 rebounds
Manny Campbell- 17 points
Centennial
Tristan Stern- 19 points, 8 rebounds
HAMILTON,ON–Fifth-year point guard Manny Campbell led Mohawk College's Mountaineers with 17 points as they held off the Centennial Colts team 80-71 in an exhibition contest Tuesday night in Hamilton.
With strong defense and dominance inside the paint, Mohawk opened up the second half on a 10-0 run to gain the lead, then closed out the game in the final three minutes with strong play down low from Andrew Cicuttini who finished with 24 points and 11 boards.
Campbell, a 5'10" point guard from Hamilton, was a second-team all-star last season and hopes to fill the gap left by the departure of his backcourt mate, 2012 CCAA Athlete of the Year Aminu Bello.
They're big shoes to fill, but Campbell hopes his Jordan VIIIs can take him and his teammates back to the top as Canadian College champions, though he knows they have long way to go if they want to be able to compare themselves to the team from a year ago.
"Honestly, we're trying not to do so much of that," said Campbell.
"I mean, each year's a new year and now that we have that reputation at Mohawk we get everybody's best game so we try not to focus too much on last year and just focus on building this year."
The last time the Centennial Colts faced the Mohawk Mountaineers, it was the quarter-finals of the 2012 OCAA playoffs.
Centennial was coming off a surprising 18-2 season, good for best in Ontario at the college level, with a new gym, new uniforms, and a relatively young team.
Mohawk, however, won the matchup ending the Colts season and sending Mohawk on a wild ride of their own from OCAA to CCAA champs.
"We still have a lot to work on, I mean, it's still early but as long as we come in and work, there's not many teams that have our bigs and have our speed so once we get it all rolling we're going to be tough to beat," said Campbell.
On this night, though, Campbell stood on the court after the game reviewing a paper printout of the box score, lamenting his four turnovers.
"Got to look at the turnovers," Campbell said. "Definitely. Especially as a point guard, I've got to limit those."
Turnovers were a problem for both teams as Mohawk lost the ball 24 times to Centennial's 25.
Overall though, Mohawk head coach and 2012 OCAA West Coach of the Year Brian Jonker believes Campbell acquitted himself well and was a big part of the last-minute win.
"He played well, a few more turnovers than we like but for the most part he played well tonight," said Jonker. "He controlled the game, and at the end we got the ball inside to the big guys and he was a big part of doing that."
The front court was an advantage for Mohawk, Jonker said, with four players 6-6 or taller to Centennial's pair of 6-6 forwards Marlon Grayson and Tristan Stern, who led the Colts with 19 points and eight rebounds.
"We got the ball inside," Jonker said. "I think Andrew [Cicuttini] had four or five touches in the last three minutes and he made the most of them. When we get the ball inside we're pretty tough."
Centennial, forced to play more of a perimeter-oriented game, attempted 31 shots from long distance, connecting on just seven of them.
And while it may have been the post players from Mohawk who sealed the deal, Jonker said it was Campbell's effort that led the team to the pre-season victory.
"I think he is, for my money, the best Canadian college point guard," Jonker said.
"I believe it."
Mohawk's next game will come Oct. 30 when they host Niagara, the night they will receive their 2012 championship rings, while Centennial will open their season at Loyalist College the same night.