Tommy Nixon, Brylle Kamen & UBC Thunderbirds Use Balanced Attack to Write Off York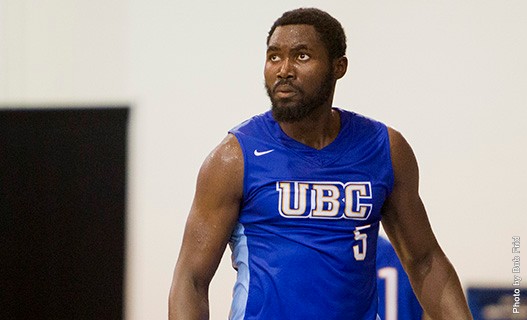 NPH Top Performers
UBC Thunderbirds
Brylle Kamen – 19 Points, 14 Rebounds, 4 Assists
Tommy Nixon – 21 Points, 7 Rebounds, 4 Assists, 3 Steals, 1 Block
Doug Plumb- 13 points, 7 assists
Isaiah Solomon – 5 Points, 5 Rebounds, 6 Assists, 7 Steals, 2 Blocks
Geoff Pippus- 18 points
York Lions (Stats Unavailable)
VANCOUVER, BC–The York Lions – playing their fourth game in four nights – scored the first two points of the contest, but it was all UBC from there, as seven players scored in double figures to lead the Thunderbirds to a 120-84 victory Sunday night.
With the loss, York finishes its west coast road trip with a 1-3 record.
Second year point guard Akeem Isaac was the lone bright spot for the Lions. The 6'3" Issac created scoring opportunities — for himself and his teammates — off the dribble and was able to get to the line numerous times. However, UBC took advantage of a tired York squad, pushing the tempo at every opportunity.
"We struggled defensively to contain their dribble penetration, but we did a really good job of getting out and scoring in transition," UBC assistant coach Casey Archibald told NPH.
"We caught them at the end of a long road trip, it was their fourth game in four nights, and you can tell they were a little tired."
For UBC it was truly a team effort: third year forward Tommy Nixon lead the way with 21 points, including 4-8 on three pointers; 6'7" forward Brylle Kamen was nearly unstoppable inside, finishing with 19 points and 14 rebounds (9 offensive); second year guard Geoff Pippus added 18 points off the bench, on 6-8 shooting and 5-6 from three; and veteran Doug Plumb had 13 points and 7 assists.
Also for the Thunderbirds, 6'0" freshman point guard Isaiah Solomon displayed a well rounded game, creating havoc defensively and running the offense with the poise of a veteran. In 23 minutes off the bench, Solomon recorded 5 points, 5 rebounds, 6 assists, 7 steals and 2 blocks.
UBC Head Coach Kevin Hanson on Solomon: "I've been really happy with him. He does so many things defensively; he gets steals, deflections, and he's strong on the ball. He's still young and he has lots to learn, but he is very very mature for a freshman. I'm very excited for how good he is going to be for us."
Assistant Coach Casey Archibald added: "He's been great for us defensively. He's got great instincts, especially as a rookie. He does a lot of things you can't teach."
As a team UBC shot 13-30 (43%) from the three point line, including a blistering 56% (9-16) in the second half. Coach Hansen mentioned that shooting the ball, when open, has been a point of emphasis in practice.
"We didn't shoot very many (three pointers) last year so it's been part of our process, to play inside-out basketball." Coach Hansen continued "We're still giving up threes, then we penetrate and we turn it over. Guys just have to be ready; some guys have the green light but they just need to shoot it."
Coach Archibald reiterated his position: "We felt over the last few games we've been giving up a lot of shots and getting turnovers. We told the guys if you're open, shoot it. Tonight we did that, and we shot a pretty good percentage. All in all we want to shoot the ball a little bit more than we had earlier in the year, and to be fair we were open a little bit more today too."
With the regular season looming, Coach Hansen was thankful for the opportunity to get his first year players meaningful minutes.
"Our rookies got a lot of playing time, I thought they did some pretty good things. Isaiah (Solomon), Connor (Morgan) and Jordan (Jensen-Whyte) are going to be the future for us, so we really want to try and get those guys good minutes."
UBC will host two more preseason games this week (Thursday vs. McMaster and Saturday vs. Lakehead), before their first Canada West regular season game Friday November 2nd vs. Trinity Western.