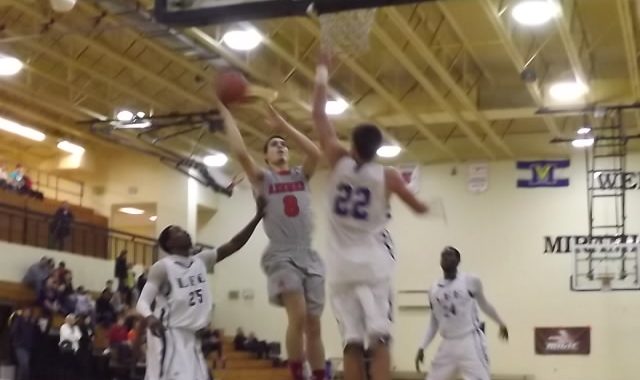 Acadia Axeman Handle Competition at Miramichi Hoops on The River
MIRAMACHI, NB–The Acadia Axemen rolled into Miramachi and rolled through the competition en route to a 3-0 record and looked more dominant with each game that they played. Adjusting to another preseason without star guard Anthony Sears (injured), Sean Stoqua (football) and Tyler Scott (academics after health issues last season) the axemen still looked strong enough to be an AUS contender.
The University Hoops Showcase on the River plays host to CIS, CCAA and Prep teams and its main goal is to bring elite high level basketball to a small community.  The community of Miramichi is showing that small Canadian towns support and want to build the ever growing Canadian Basketball prowess.  They also bring back teams with NB players to show young aspiring basketball players they can get to that level.  Some notable players from small town New Brunswick: Brad States (Bathurst-Acadia), Ryan Smith & Matt Daley (Dalhousie- UNB), Joe Maxwell (Dalhousie-STU), Matt Veno, Jacob Tozer, Kathleen McCann (Miramichi-STU) and CIS All Star Player Brook Sullivan (Miramichi-Dalhousie).
The make up of this tournament provides many story lines.  It allows CCAA teams to compete with CIS contingents and show that they run quality programs that are competitive.
It allows high school players to strut their stuff and compete against their older piers.
A group of former CIS stars trying to teach the young bucks a thing or to about the game, didn't quite work out that way though.
First and foremost the tournament was a platform for the Acadia Axemen to break in some of their young players and allow them to really get a solid look and feel for the much more physical CIS game.  Freshman AJ Simmonds had an outstanding weekend starting all three games and dropping a game high 24 points against Lee Academy.  Owen Klassen was completely dominant and showed his versatility by knocking down long three's, mid range jumpers, dribble drives and post ups.  You would be hard pressed to find a 6-10 player playing University ball in Canada who demonstrates the skill set that Klassen has.  He is an CIS elite player.
Acadia defeated UNB 73-68, a tough St Thomas team 75-52 and a very gifted and young Lee Academy 100-64
UNB battled Acadia tough in their first game of the tournament losing 73-68.  The Reds also lost their second game of the tournament91-79 to Lee Academy in giving up a double digit fourth quarter lead.  The Reds then woke up very angry Sunday morning and trashed Vanier by a score of 97-53.  UNB is a solid team who will likely make playoffs in the AUS this season.  They shoot the ball extremely well being led by Robert Linton from Australia and Dan Quirion, they take care of the basketball and have good interior play.
Holland College and Saint Thomas of the ACAA competed in the tourney and are both very good teams as demonstrated by the last game of the tourney and intense battle which ended up with HC winning 79-77.  Nathan Mazurkiewicz a second year guard for STU is an exceptional player who dropped 37 in the game.  He is a fierce competitor and can not only shoot the ball, he is a scorer.  Based on these two teams performances, I believe the ACAA will be a hotly competitive league with Mount Allison, Kings College, Holland College, St Thomas and Mount Saint Vincent battling for the a conference championship.
Lee Academy who unfortunately was only able to get six players across the boarder to compete was a real treat.  Brampton Ontario product Kiefer Douse lived up to his reputation and his NPH 2013 top 30 ranking. He is an exceptional talent who can get to the rim when ever he wants, and shoots the ball well.  Most impressive for me was the composure and maturity with which he played the game.  He scored 22 against Holland College, 28 against UNB and  17 against Acadia.
On the women's side of things St FX was impressive with a 3-0 record and won by an average of 14.6 a game.  The X-Women who are playing without star guard and last years AUS rookie of the year Vanessa Pickard (injury) just play solid fundamental team basketball under the guidance of first year coach Augey Jones.
Frederique Potvin of Vanier College is a very impressive player.  She is a 5-10 left handed guard who can get to the basket and contort and finish in a variety of ways.  Enjoyed watching her and Vanier as a whole as they competed with a high level of intelligence and composure.
I would like to extend a thank you to Liz Doyle and the Hoops on The River Committee for taking care of me and my family on this outstanding basketball excursion. They did an outstanding job with the tournament and my hat is off to them for bringing this to their community. I hope for many years of success and support for the University Hoops Showcase on the River Event from the Basketball Community across Canada.
For full results, visit www.universityhoopsontheriver.com