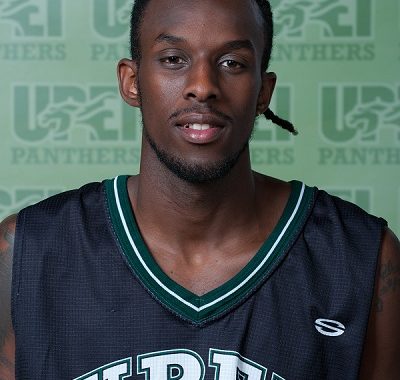 NPH CIS Preview: UPEI Panthers
Last Season:
| | | | | | | | |
| --- | --- | --- | --- | --- | --- | --- | --- |
| Overall | Pct. | Conf. | Pct. | Streak | Home | Away | Neutral |
| 13-7 | .650 | 13-7 | .650 | Won 1 | 10-0 | 3-7 | 0-0 |
Team: Prince Edward Island (UPEI)
Head Coach: Tim Kendrick (2nd season)
Assistant Coaches: Pat Harvard, Marvin Rhyno, Lonnie States
2011-12 record: 13-7 (AUS)
Key Players: Donathan Moss, Terrence Brown, Geoff Doane
Incoming recruits:
Lorenzo Parker – 6'3, New Minas, NS/Horton HS
Lucas Coughlin – 6'6, Summerside, PE/Three Oaks
DJ Smith – 6'0, North Preston, NS/Citadel '11
Joe Kendrick – 6'4, transfer/Crandall
Brian Ofori – 6'5, Montreal, QC/Dawson
Andrew Rogers – 6'1, transfer/St. Mary's
William Caesar – 6'2, transfer/Brandon
Sammy Opel – 6'6, Nairobi, Kenya
Mandrez Downey – 5'10, North Preston, NS/Metro Prep
Brandon Wallace – 6'8, Yarmouth, NS/Redshirt
 Departures: Manock Lual, Jonathon Cooper, Ollen Smith, Matt McKenna, Devin Esekiel, Rickyle Beals, Andrew Clark
Prior to the 2011/12 season the UPEI Panthers were disregarded as a threat in the AUS.  Last season that all changed.
Tim Kendrick, the legendary HS coach from Horton HS in New Minas took the job last season and transformed the program almost instantly.  The new head coach turned UPEI into a 13-7 team after 4-16 and 7-13 in previous seasons.
Kendrick didn't do it alone, the fire power of fifth years Lual and Cooper lead the way combining for 35 points per game.  Replacing those numbers will not be easy.
"As far as individuals go, Manock Lual and Jonathan Cooper are irreplaceable. We hope to replace their stats with a total team effort, and we will need some guys to step up leadership wise," Kendrick told NPH.
While there are a fair amount of departures from the program, there are plenty of key players that will be ready and able to step up and fill the void Lual and Cooper have left.  Leading scorer last year Donathan Moss returns back for his fourth season with the Panthers after averaging 18.0 points and 7.3 rebounds per game last year he is primed to take on more of a responsibility.
Besides brining back starters Terrance Brown and Jermaine Duke, UPEI will have Aaron Robbins and Geoff Doane back.  Robbins and Doane came off the bench last season and would have pushed to start anywhere in the AUS and still managed to have solid impact.
Despite the large amount of players returning and staying, Kendrick has not been sitting back. His recruitment has been intense and he has targeted players from all over, transfers and recruits including Lorenzo Parker from Horton HS where he coached for many years.
"I am very pleased with the quality of players that we have brought in to our program.  I feel that we are much deeper and more talented than last year, and I won't hesitate to play our younger guys."
One of Kendrick's late recruits is Mandrez Downey, a 5'10 guard who played a majority of his high school at Cole Harbour in Nova Scotia before leaving for Metro Prep to be seasoned.
Downey flew under the radar but has already been making an impact during UPEI's Mickey Place preseason tournament, earning a tournament all-star selection and pouring in big numbers including 31 over Ryerson.
"We expect to be very competitive in our conference and beyond.  We will play very hard, in an up-tempo style."
UPEI is a team that is on the rise after finishing third in the AUS last season. Following an early exit from the AUS championships last season, the Panthers will be ready to compete with the best in the conference for the title.  Ottawa in March is a possibility if they can improve their record on the road and dictate the tempo.