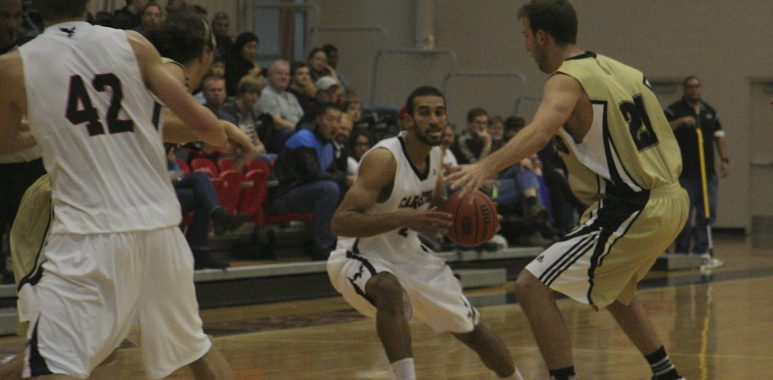 Tyson Hinz Earns MVP Honours as Carleton Ravens Capture 12th Straight House-Laughton Championship!
Tournament All-Stars
Phil Scrubb – Carleton
Kewyn Blain – Carleton
Greg Faulkner – Queen's
John Traboulsi – Dalhousie
Karl Demers-Belanger – Laval
MVP
OTTAWA, ON —The Carleton Ravens wrapped up their twelfth straight House-Laughton tournament championship on Sunday with a 96-62 win over the Dalhousie Tigers.
Led by Thomas Scrubb's 20 points, the Ravens' depth and constant pressure wore down the Tigers in the third game in three days for each team. A barrage of three pointers in the third quarter put the game out of reach and the Ravens up by 30.
Carleton head coach Dave Smart believes the team is coming together, but still has some room for improvement.
"We're explosive, we're talented, we're long, we're athletic, so we can make some mistakes and get away with it, but unfortunately we did. We made a lot of mistakes and didn't play as tough as I wanted us to play," Smart told NPH after the game.
While Carleton barreled through the competition, Laval, Dalhousie and Queen's battled it out and gained valuable experience in the young season.
In the first day of the tournament, Laval edged out a victory over Dalhousie 67-61 led by Hughes Ryan's 14 points.
Laval led by nine points going into the final frame, but the Tigers stormed back in the fourth quarter and briefly took the lead 61-60.
The Rouge et Or, however, scored the next seven points to seal the deal capped by a three-pointer by first year guard Karl Demers-Belanger who said after the game that he enjoyed the challenge posed by the Dalhousie comeback attempt, and it was team defence in the final minute that led to the win.
Carleton dominated the second game on Friday, doubling up on Queen's 98-49. Carleton took a quick 19-3 lead in the first quarter, but Queen's never quit despite the Ravens tough defence.
"Certainly Friday night exposed a lot of things and that game is not out of memory by any stretch," said Queen's coach Stephan Barrie.
The Carleton rookies had a chance to shine as Kewyn Blain led all scorers with 18 and Clinton Springer-Williams started the game, notching nine points of his own.
After the game, Springer-Williams told NPH the key to the game was: "Our defensive intensity. That's what we focus on every day. And just getting guys open on the offensive end and we have guys that can shoot, that can get in the lane, but most importantly it's all about defence at Carleton."
On day two Dalhousie started strong against Queen's, with Simon Marr getting points in the paint. The Tigers led for most of the first half until a late Queens rally capped by a Greg Faulker basket that put the Gaels up 42-39.
Dalhousie pressured back, but a pair of threes by Gaels guard Ryan Golden in the final minutes put the Queen's in front by two. With seven seconds left Dalhousie went for the tie, but William Yengue was blocked near the free throw line by a pair of defenders – final score 77-75 for Queen's.
Former Raven Greg Faulkner led the Gaels with 23 points and seven rebounds, while Ryan Golden chipped in 13 points.
In Carleton's second game Tyson Hinz stepped up with 21 points and 11 rebounds, while five other Ravens scored in double figures and they won 102-80 over Laval.
Kewyn Blain had another successful offensive game thanks in part to his elite-level quickness. He and Clinton Springer-Williams, both transfers from American schools, have stepped into major roles right away with Carleton.
Laval forward Thibaud Dezutter left the game with a shoulder injury. His teammate Hughes Ryan told NPH that the shoulder popped out, and Dezutter had the same injury two months ago. He didn't play in the final game, but joined his teammates on the bench.
On the last day Laval's good shooting established an early lead, but Queen's took advantage when they got too comfortable and ended up winning 72-62.
Queen's was led by Greg Faulkner's 22 points and 10 rebounds.
After that, it was Carleton's turn to put the finishing touches on the tournament, winning 96-62 and finishing 3-0 over the weekend.