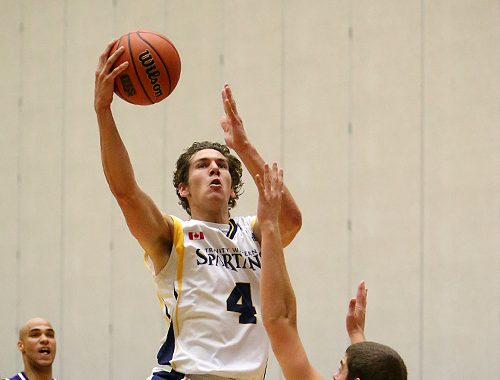 Jeremy Leonard-Smith Powers Bishop's Past TWU Despite Brilliance From Eli Mara
NPH Top Performers
Trinity Western Spartans
Eli Mara – 28 Points, 10 Rebounds, 3 Assists, 4 Steals
Mark Perrin – 16 Points, 3 Rebounds, 3 Assists, 5 Steals
Bishop's Gaiters
Jeremy Leonard-Smith – 14 Points, 12 Rebounds, 2 Assists, 1 Block
Tim Hunter – 14 points, 4 Rebounds, 3 Assists, 2 Steals
Langley, BC – In a game of runs, the visiting Bishop's Gaiters were able to overcome an 11 point fourth quarter deficit with a late 16-0 run to defeat the Trinity Western Spartans 88-81 Saturday night.
For Bishop's, all five starters scored in double figures with Jeremy Leonard-Smith (14 points, 12 rebounds) leading the way. Leonard-Smith was also involved in what was likely the deciding play of the game:  in the midst of the Gaiters late 16-0 run, Leonard-Smith turned the ball over but was held by Tonner Jackson as he hustled back on defense. Bishop's was down by two at the time, and Leonard-Smith made both the free throws, and converted a layup on the ensuing possession to give the Gaiters an 80-79 lead that they would never relinquish.
With the victory, Bishop's improved to 2-1 against Canada West teams this preseason.  Trinity Western drops to 0-2 on the preseason.
A back and forth first half was highlighted by the play of Spartans guard Eli Mara. The 6'5" Mara poured in 20 points in the half (8-9 from the field), scoring on a variety of aggressive drives.  Bishop's took a six point lead (50-44) into halftime thanks to the strong play of 5th year forward Tim Hunter.
In the third quarter, Bishop's was able to stretch their lead to ten, but the Spartans responded with aggressive defense, forcing turnovers and capitalizing on their transition opportunities. For the game, Trinity Western scored 36 points off 28 Bishop's turnovers.  Spartans guard Mark Perrin lead the way with five steals, three of which resulted in uncontested dunks. A late 8-0 Spartans run, capped by another Eli Mara layup, tied the game at 62, but the Gaiters were able to take a 68-66 lead into the fourth quarter.
The Spartans started the fourth quarter with a 13-0 run to take a 79-68 lead with 6:27 to play. Bishop's responded immediately with a 16-0 run, and outscored Trinity Western 20-2 in the final 6:27, on their way to the 88-81 victory.
Just as in their previous exhibition game, Trinity Western struggled against the 2-3 zone, and shot poorly (26%; 7-27) from the three point line. However, the eventual return of lead guard Tristan Smith will help in both respects as he will stretch the floor with his shooting (35% on 3 pointers in 2011/12) and create for others (5.4 assists/game in 2011/12).
These two teams will play again on October 17th at Bishop's University.