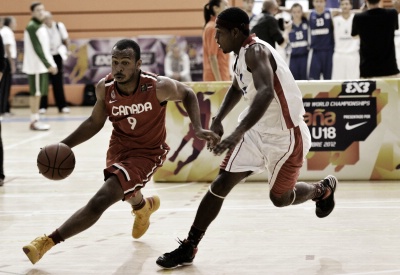 Canadian U18 Men Finish Fourth at FIBA 3X3 World Championship!
Alcobendas, Spain – Over the weekend, FIBA held its second annual FIBA 3×3 U18 World Championship in Spain. Canada sent both a men's and a women's team over to compete in this tournament. The Canadian U18 men had a successful run by going undefeated at a perfect 7-0 in the group stage and finishing fourth overall, while the U18 women's team finished with a 2-3 record.
The U18 men's team, coached by Shawn Swords (Laurentian/ CIS) comprised of Brody Clarke, Chris McComber, Marko Pirovic and Troy Reid-Knight took control of Group A on day 1 with wins against Slovakia (17-16), the Netherlands (20-5), France (20-17) and Belize (18-14).
The men entered day 2 with a perfect 4-0 record and carried over the momentum they built on Friday to Saturday. They finished out group play winning their final three matches (China 20-14, New Zealand 16-15 and Poland 17-10). With a perfect record (7-0) through the group stage, Canada earned a bye into Sunday's quarter-finals.
In the quarters, Canada faced Romania, who qualified earlier in the day by defeating Switzerland. Canada was involved in a very competitive game and pulled through with a 19-17 win to advance to the semi-finals against the USA. Canada was unable to push their winning streak to nine, as the Americans eliminated Canada from the competition with a 17-13 victory. In the bronze medal game, Canada was up against a determined French squad and lost their second straight game by a score of 19-11 to finish fourth overall in the tournament.
In the finals of the men U18 3×3 World Championship, Serbia defeated USA, 21-20.
The Canadian U18 women's team was composed of Shay Colley, Sam Cooper, Saicha Grant-Allen, and Kia Nurse. The women's U18 team did not sizzle out of the gate like the men's team. Canada dropped its first two games (Romania 8-7) and England (15-13). In the final game of the day, the Canadians were able to get into the win column after dominating Andorra, 16-4.
Canada entered day 2 with a 1-2 record with two games to play in the group stage. In their opening game of the day against Tunisia, Canada was awarded a 21-0 victory after their opponents pulled out of the tournament. In their final game of the tournament, Canada was defeated 10-5.
The women finished with a record of 2-3 and finished fourth in their group.
In the finals of the women U18 3×3 World Championship, USA defeated Spain 21-13, while Australia claimed the bronze medal after downing Italy 16-14.
For additional information about the tournament, click here for the tournament website.