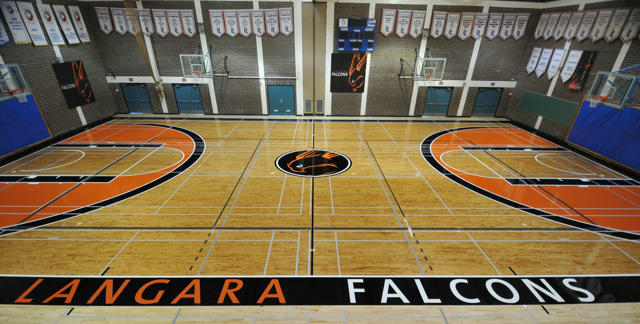 Langara Falcons Hold High Expectations, Gunning for CCAA National Championship
Head Coach: Paul Eberhardt
Assistant Coaches: Jordan Mottl, Paul Naka, Nick Toews
2011-12: Regular Season: 4th Place (10-7) in the PACWEST. 5th Place in PACWEST Tournament.
Key Players: Elliot Mason, Brody Greig, Jitt Lohcham, Jeff Chu
Incoming Recruits:
Jesse Jeffers – 6'6″, North Vancouver, BC / CIS – Trinity Western University
Mark Kol – 6'2", Richmond, BC / RC Palmer Secondary
Martin Appiah – 5'9", Vancouver, BC / Winston Churchill Secondary
Departures: Gurj Jhaj (PACWEST 1st Team All-Star; CCAA All-Canadian)
VANCOUVER, BC–With eleven returning players, and only one major departure, incoming coach Paul Eberhardt is looking to push his Langara Falcons to the top of the PACWEST.
Sitting down with Coach Eberhardt, two things quickly became clear: he believes in every player on his 14 man roster; and he knows that he has the talent, and the system, to compete for a national championship.
"One of things that I've always done with my teams is really emphasize transition" Eberhardt said. "We're really going to try to push the ball, and we have the players to do it."
Offsetting the loss of CCAA All-Canadian guard Gurj Jhaj is the return of 6'6" guard Elliot Mason. After not playing in the second term last year, Mason returns to the team and Coach Eberhardt is looking for him to be a key contributor right away.
"He's a very talented player" said Eberhardt.  "With Gurj gone now, people will see a lot more of him stepping up on the offensive end of the floor". "He's long at 6'6", he can really shoot the ball, but he can also get to the hoop."
However, Coach Eberhardt stressed that with his uptempo offense and talented roster, he won't be depending on just one player to carry the scoring load.
"I envision that we're going to have at least five guys scoring in double figures, we're going to really balance it out." said Eberhardt. "I think we can be the kind of team where Elliot gets 20 one game, the next game Jeff Chu gets 20…Brody doesn't look to score a lot…but he gets to the hoop and he finishes, so he'll have some big scoring games for us." Eberhardt continued, "I think we'll see a wide variety of scoring options with this group"
Coach Eberhardt also recognized the luxury of having a roster versatile enough to slow things down, when needed.
"When you have good size and good point guards, running that two man game is something we'll look to do as well." said Eberhardt. "Honestly, I think I might have the two best point guards in the league on this team." "I think Jitt will be a strong inside player for us, he's got a nice assortment of moves."
Even with a wealth of talent and experience on the roster, Coach Eberhardt mentioned that the team's chemistry may be their greatest asset.
"I've really been impressed with how well these guys work together. They know each other really well." "I'm a somewhat demanding personality" Eberhardt said "I'm pretty tough, and I can hammer them pretty good, but it's been amazing they've accepted it, they really want to learn and they really support each other."
With a unique mix of talent, chemistry and experience don't be surprised to see the Langara Falcons make a deep run this spring.