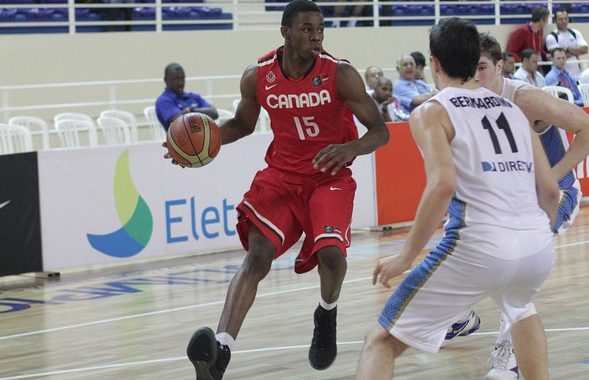 NPH 2014 Pre-Season Player Rankings
Following the release of the NPH Presason Top 25 for the class of 2013, up next is 2014. This group is BIG, deep and talented, with the Mr Andrew Wiggins owning the top spot.
Expect the level of talent and depth in every class to continue in a gradual increase. Canadian prospects are more moitvated than ever to work hard and achieve their academic and athletic goals; it truly has been a pleasure witnessing the rise up close!
Next up is the NPH Pre-season Top 10 for the class of 2015. In the meantime, enjoy 2014!
Stock Rise
Jabari Craig continues to develop his overall skill set to compliment his intimidating physical make up. Craig is physically ready for the next level. Big, strong and great athleticism, Craig loves to play above the rim. Defensively, he is a major presence blocking or altering shots, and he is beginning to show signs of a short jumper and post game.

Andrew Wiggins is the #1 player in Canada, but also #1 in the WORLD! | Courtesy: Ryan McCullugh

Miroslav Jaksic is a VERY interesting prospect that could see himself jump up further. At 6'11 with great length, versatility, including a strong post game, we are extremely excited for what Jaksic can become. High ceiling! he will be at the NPH Windsor Showcase next month.

Aaron Ariri has been gradually developing and is quite impressive physically, capping off a strong summer at the Caribana Classic. He takes his game to St Anthony's where he will be under the watchful eye of coaching legend Bob Hurley.
Noah Daoust really impressed displaying his versatility at the national championships with team Quebec. Size, shooting ability, I.Q, great academics; he possesses a nice package. If he can improve his stamina, speed and agility, don't be surprised to see him continue climbing the NPH rankings.
Emmanuel Owootoah- In every setting that we watch Owootoah whether it be high school or AAU, he excels at the lead guard position. With vision and passing ability second to none, complimented with speed and athleticism, 'E-man' is a very exciting player to watch; one that we will certainly continue watching.
Gavin Pearce- The NPH showcase MVP was dominant last winter, and continued on a strong summer where he is beginning to draw NCAA interest. A strong and athletic wing who is able to beat defenders off the dribble and finish strong in the paint.
Marcus Lewis- He is a stat sheet stuffer! Doesn't have a true position quite yet as he plays inside with a nice touch around the rim, while also knocking down jumpers, running the wing and doing whatever it takes to get the job done. He was a monster on the AAU circuit as well as at nationals with Team Ontario. An elite athlete that we look forward to tracking.
Juwan Miller first made a big impression last season, where he contained Grant Mullins (Columbia/NCAA) something that we had not seen done. Miller is an elite perimeter defender, quick feet, fiesty and will not back down. For Team Ontario this past summer, he was a critical piece, a catalyst for the team.
NPH 2014 Pre-Season Player Rankings