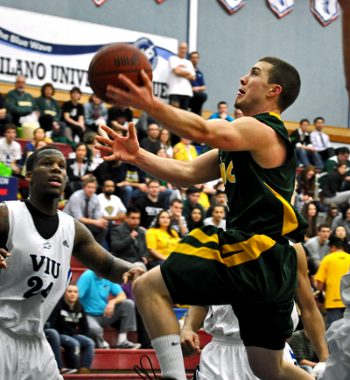 NPH CIS Preview: UNBC Timberwolves
Last Season: Overall: 16-3 PacWest Conference Champions (5th at Nationals)
Head Coach: Todd Jordan
Assistant Coaches: Dale Dergousoff, John Tramble
Returning Players: Joel Rybachuk, Sam Raphael, Charles Barton, Francis Rowe, Dan Stark, Jose Araujo, Gabe Aubertin, Billy Cheng
Incoming Recruits:
Josh Jebose – 6'8'' – Calgary, AB / Notre Dame Secondary
Gagan Sahota – 6'5'' – Surrey, BC / Tamanawis Secondary
Navjot Bains – 6'6'' – Surrey, BC / Tamanawis Secondary
Nolan Hansen – 6'1'' – Prince George, BC / College Heights Secondary
Elliot Rowe – 5'7'' – Victoria, BC / Mount Douglas Secondary
The UNBC Timberwolves are tasked with the always difficult transition from the CCAA to the CIS this season. However, to say they have any reservations heading into their inaugural season would be a lie. Head coach Todd Jordan is  eager to get on the court.
"I'm excited to get some of the CanWest teams in our home gym. I think we are going to surprise some teams who come up here," said Jordan.
"We regularly get about 1500-2000 fans a game, it's a loud and exciting atmosphere unlike anywhere else in BC."
UNBC is undoubtedly a team flying under the radar heading into the preseason. The combination of geographic location, and a roster that few CIS teams are familiar with, could definitely catch opponents off guard.
The team itself is laden with veteran leadership. There are five returning players from the 2010 CCAA national championship team. Joel Rybachuk, Sam Raphael, and Francis Rowe will be looked at to provide the veteran leadership for the younger players. Raphael, a first team all-star at 2012 BC provincials, will be the catalyst for the team; quick, and athletic he draws the tough defensive assignments and is expected to provide an offensive spark as well.
Jordan expects Raphael to have a big year. "We're going to have four fifth year guys starting for us. They have essentially built this program at the CCAA level and they see this season as a challenge to prove themselves at the next level," he explained.
"It's their last year, so this is really the last hurrah for them. They instill a tremendous work ethic for the rest of the guys, and their commitment to the team is unmatched. They are going to provide the framework for our younger guys to follow in their footsteps, and continue to take this program in the right direction," Jordan continued.
The Timberwolves are not just going to be relying on their veterans for leadership though. They will be expected to play the bulk of minutes, and carry the offensive workload. While undersized at the CIS level, they possess solid athleticism one through five, and it will be interesting to see if their transition style offense successfully translates to the next level.
Impact players to watch for include Raphael, Rybachuk, and Rowe. UNBC is an interesting team heading into their first CIS season. Expectations for them are predictably low, but they have the potential to surprise teams who take them for granted.