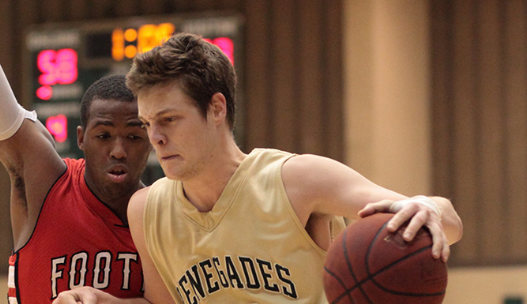 NPH CIS Preview: New Brunswick Varsity Reds
Last Season:
| | | | | | | | |
| --- | --- | --- | --- | --- | --- | --- | --- |
| Overall | Pct. | Conf. | Pct. | Streak | Home | Away | Neutral |
| 7-13 | .350 | 7-13 | .350 | Lost 1 | 5-6 | 2-7 | 0-0 |
Head Coach: Brent Baker
Assistant Coaches: Don McNeil, Trevor Pardy (Strength and Conditioning)
Key Players: Will McFee, Dan Quirion, Jordan Irvine, Matt Daley,  Seth Amoah
Incoming Recruits: 
Nick Clarke
Michael Fazzolari
Jessie Balser
Mark Matheson
Alex Chisholm
Mackenzie Washburn
Ryan Smith
Departures: Alex DesRoches, Michael Fosu
This will be an interesting year for the Varsity Reds as they were hit hard by the graduation of second team All Star Alex DesRoches and the departure of Michael Fosu losing a combined 26.1 pts and 13.9 rebounds. Coach Baker is hoping that a full and healthy season from Dan Quirion and Will McFee will fill this void with opportunity for Jordan Irvine and Seth Amoah to eat up their production. Newcomers Nick Clarke and Michael Fazzolari are expected to pick up some paint production along with returning center 6-8 Aaron O'Brien.
Coach Baker also spoke of Peter Goggins maturity and basketball IQ as a key part of this season, which actually may be essential as the Reds add seven new faces to the program.
Coach Baker believes his returning players were driven by a tough one point loss at home to SMU on February 18 that cost them the 2012 playoffs. In particular, Will McFee stayed in Fredericton this summer and trained with a purpose to not see the Reds miss this years playoffs.
It is going to be a tough grind for the Varsity Reds as they battle for a playoff spot in the AUS. But one thing is for certain with the Reds, and that  is they will battle every night and fight tooth and nail for it; a team that can grind it out usually can work it out.