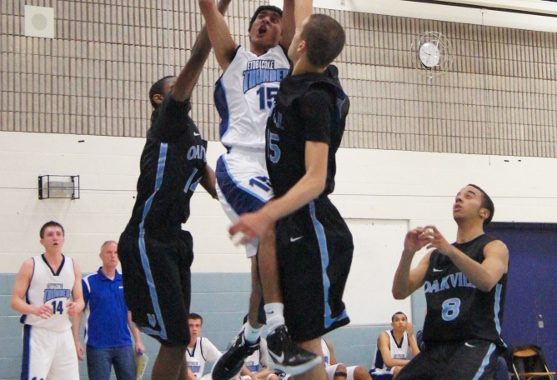 NPH CIS Preview: Queen's Gaels
Last Season
| | | | | | | | |
| --- | --- | --- | --- | --- | --- | --- | --- |
| Overall | Pct. | Conf. | Pct. | Streak | Home | Away | Neutral |
| 2-20 | .091 | 2-20 | .091 | Lost 4 | 1-10 | 1-10 | 0-0 |
Head Coach: Stephan Barrie
Assistant Coaches: Chris Aim, Madhav Trivedi
2011-2012 Record: 2-20 (63.6 points for, 77 points allowed)
Returning Players: Ryan Golden, MacKenzie Simpson, Nikola Misljencevic, James Macvicar, John Lenz, James Asefa
Incoming Recruits:
Greg Faulkner – 6'5" – Kingston, Ont. / Carleton Univ. / Holy Cross CSS
Andrew Mavety – 6'2" – Vancouver, B.C. / Point Grey Secondary
Milan Mitrovic – 6'6" – Vancouver, B.C. / St. George's School
Mark Paclibar – 5'10" – Barrie, Ont. / St. Joseph's C.H.S.
Roshane Roberts – 6'0" – Vaughan, Ont. / Vaughan Secondary
Cy Samuels – 6'5" – Vaughan, Ont. / Vaughan Secondary
Sukhpreet Singh – 6'2" – Toronto, Ont. / Martingrove Collegiate
Patrick Street – 6'4" – Etobicoke, Ont. / Richview Collegiate
Ryall Stroud – 6'7" – Toronto, Ont. / St. Michael's College School
Head Coach Stephan Barrie believes this will be a season of transition for his Queen's University Gaels basketball team.
To turn the tides following a dismal 2-20 season the coaching staff recruited nine new players, a diversity of talent from across Canada to help build the future of the program.
Barrie is especially excited about the ability of two freshman guards from Vaughan Secondary, Roshane Roberts and  Cy Samuels, plus a pair of other backcourt recruits, Patrick Street, from Richview, and Martingrove's Sukhpreet Singh.
Singh, Barrie said "held his own against a very good Division 1 guard" in Northeastern's Jonathan Lee, in a recent exhibition.
"We're pleased with the way the guys are getting to know each other," said Barrie. "Off the court the guys seem to be gelling together really well and that's not something you can control, so you hope that it goes that way and it certainly has."
Freshman year is always one of tremendous transitions academically and physically says the coach. What he wants to see is if these frosh friends can create the same chemistry when they hit the court.
"With so many new pieces to a team, the importance now is coming together and getting a good start," said Barrie. "The month of September has to be a very productive month for us where they learn a tremendous amount.
"It's really important for our staff to be patient with them. There's going to be some great moments, there's going to be some moments for sure where we'd like to pull our hair out because we have perhaps four or five freshman on the floor all at one time."
League play won't begin until Nov. 9 when Queen's hosts the Laurier Golden Hawks, but the Gaels have already been up against Boston's Northeastern (a 104-85 loss to the NCAA Division 1 team), and will play 13 more games before they will open the OUA campaign.
These games, including the House-Laughton tournament at Carleton, and the Brock Classic in St. Catharines, will provide a proving ground.
"We have a chance to work out the kinks and work out some lineups that we like and see how different guys play together and their roles, so there's a lot of figuring out to do when you have this many new players," said Barrie.
Last season was the first for Barrie and assistant coaches Chris Aim and Madhav Trivedi after they inherited the program from former head coach Duncan Cowan and assistant coaches Graham Lambert and Scott MacKinnon. This years' recruits will help the coaching staff construct their version of the team; one that fits the up-tempo style they hope to play.
"The team is so much different than last year that certainly we can do different things," said Barrie. "We are definitely younger, we're able to release a little more energy on our opponents so we're able to do some things we were not able to do last year."
One of the new recruits is transfer Greg Faulkner who spent three years with the elite Carleton Ravens and returns to take on a leadership role in his hometown of Kingston.
"He brings a different angle with his skill set and abilities, and without us having to try to prompt him because we're trying to let guys settle a bit," Barrie said of Faulkner, who notched 25 points in the loss to Northeastern.
"You can see his experience he brings over from Carleton in terms of competing and what it takes to win. He's quickly become one of the most vocal guys, a leader.
"We're looking at the big picture," said Barrie. "We feel this group over time can really take this program somewhere we haven't been."