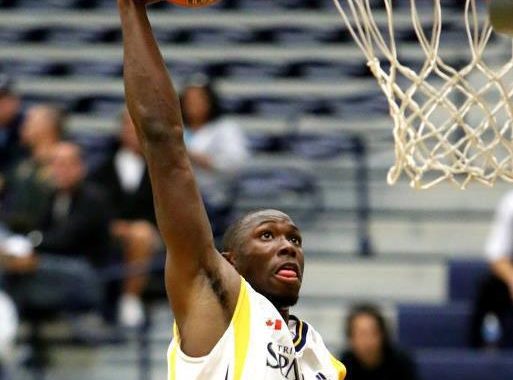 Mark Perrin, Denny McDonald Excel in First Game as Spartans, Eastern Washington Completes Canada Tour 6-0
NPH Top Performers
Trinity Western Spartans
Mark Perrin – 18 Points, 9 Rebounds, 1 Assist, 1 Block, 3 Steals
Denny McDonald – 11 Points, 16 Rebounds, 2 Blocks, 3 Steals
Tonner Jackson – 15 Points, 8 Rebounds, 1 Assist, 2 Steals
 Eastern Washington Eagles
Justin Crosgile – 10 Points, 3 Rebounds, 6 Assists, 3 Steals
Thomas Reuter – 16 Points, 7 Rebounds, 2 Assists, 2 Steals
VANCOUVER,BC–Playing with five new starters, and without fifth year point guard Tristan Smith, the Trinity Western Spartans (0-1 on the Preseason) struggled from the start and dropped a 86-57 decision to the visiting Eastern Washington Eagles Wednesday night. With the win, Eastern Washington finished their Canadian tour with a perfect 6-0 record.
A sloppy first quarter was highlighted by a 19-6 Eagles run, which was capped off by a 3 pointer from Collin Chiverton. It would be a sign of things to come as Eastern Washington would finish the game shooting 57% (17-30) from the three point line.
A bright spot for the Spartans was the play of guard Mark Perrin. After Eli Mara was forced to sit with two early fouls, Perrin took control of the offence and was very aggressive in looking for his own shot. Perrin would finish the half with 15 points on 6-15 shooting. Perrin also played well on the defensive end, hounding the Eastern Washington guards with full court pressure.
The second quarter started with The Spartans down 26-17 and, thanks to their work on the offensive glass and a slew of turnovers by Eastern Washington, they were able to keep the score close despite shooting just 23% (10-43) for the half. A late three pointer by Perrin and a pair of free throws by Tonner Jackson cut the Eagles lead to 11, and, after a free throw of their own, Eastern Washington would take a 44-31 lead into halftime.
Starting guards Eli Mara and Lucas Goosen played only seven minutes each in the first half, and the lack of a true point guard showed as the Spartans managed only one assist for the half. Eastern Washington ran away with the game in the second half, led by guard Justin Crosgile, who continued to distrube the ball, and made back to back three pointers halfway through the third quarter to stretch the Eagles lead to 59-41.
For the Spartans, Denny McDonald continued his work on the glass, finishing with a game-high 16 rebounds (9 offensive). Eli Mara played the entire second half, and despite his struggles shooting the ball (3-10 for the game), he looked very comfortable running the offense. The Spartans started the fourth quarter down 71-46 and the defecit only grew as they were unable to connect on many of their open three point attempts.
Eastern Washington went to a 2-3 zone in this quarter, leaving Trinity's shooters with many good looks. As was the case for the entire game, the Spartans could not take advantage and finished the game shooting just 17% (5-30) from beyond the arc. The Eagles bench was able to extend the lead, and they cruised to a 86-57 win.