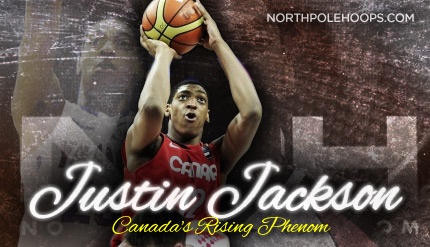 Justin Jackson – Canada's Rising Phenom – OFFICIAL NPH Mixtape
TORONTO,ON–Justin Jackson, NPH #1-ranked Canadian prospect in 2016 is among the top rising talent in the world as he proved this summer at the FIBA U17 World Championships despite being the youngest player in the tournament!
Jackson lead Canada in rebounding with 6 RPG and was third in scoring (11 PPG) behind only Kevin Zabo and Marial Shayok. Jackson is a 6'7 guard with great vision/passing ability & is the biggest Canadian prospect since Andrew Wiggins.
His basketball role model was the tallest point guard in NBA history and played for the Lakers, "His favourite player is Magic Johnson, so that on its own tells you a lot about the kid. It's not all about putting up 40 points up on the board, he's all about team," Jordan McFarlane, Jackson's AAU coach told NPH.
Jackson attends Eastern Commerce in Toronto, where he will be chasing an OFSAA championship with the Saints this season.
[youtube Dy6qjQWgR0Y]