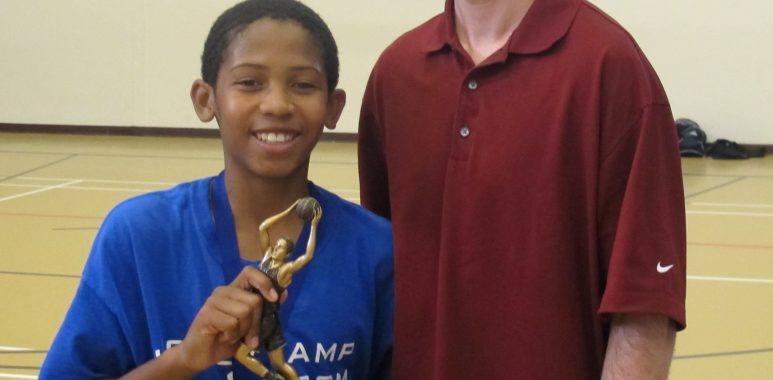 Joe's Camp Features Nova Scotia's Next Generation, Demeric Mercer Earns MVP
Dartmouth, NS–The 12th Annual Joes Camp ran on August 28 & 29 at the East Dartmouth Community Centre.  The camp was founded by Coach Joe Mosher to provide a high quality basketball camp for the best 11-13 year olds in Nova Scotia.  The camp is done at an affordable rate to ensure 100% of selected players can attend with the purpose of building basketball/life education through the game in addition to high level competition.
Over the years Coach Mosher has done an excellent job of identifying great young basketball players with the camp alumni including; Chris Johnson (NCAA D1 St. Bonaventure), Bryson Johnson (NCAA D1 Bucknell), Tyler Scott (CIS Acadia) Casey Fox (CIS Dalhousie) Jayden Nordin (Citadel High School) and Nevell Provo (Huntington Prep) to name a few.
Coach Mosher definitely has an eye for identifying young talent and this year was no different.  This year's camp showcased a group of wide eyed basketball players with very good skill level. Almost every player regardless of size showed a solid base of fundamental play.  They also showed their ability to complete tough angled finishes, mid range, long range and even tough contested jumpers.
Most impressive was the willingness to share the basketball as the teams played to move the ball and create open opportunities for each other.  The young ballers put on an awesome show and were greatly supported by coaching volunteers Jayden Nordin, Davonte Provo, Matt MacDonald, Anton Berry, and Jamie MacDonald.
As I spoke to Coach Mosher about this years camp he was ecstatic about the quality of kids participating and gushed about the positive attitudes of all participants and the very promising future of Nova Scotia basketball.  Joes Camp is a key piece to a young basketball players development in Nova Scotia as Coach Mosher brings in reputable basketball people like Ganon Baker (2010) and Coach John Campbell, Dalhousie University (annually) to talk to the participants about academics, work ethic, respect for self and the game.
This event is an excellent jump start and a "should be" on the goals list of young basketball players in Nova Scotia as it is an invite only camp.
 MVP: Demeric Mercer
Leadership Award: Josiah Tynes-Simmonds
All-Stars: Vernelle Johnson, William Colpitts, Campbell Colpitts, Keevan Veinot
1-on-1 Champion: Vernelle Johnson
Free Throw Champion: Alessandro So
Defensive Player: Adre Simmonds


Camp Attendees
Quintez Downey, North Preston Bulls
Vernelle Johnson, Community YMCA
Je'nawnd Beals, Community YMCA
Jashajaun Downey, Sackville Storm
Trequawn Smith, North Preston Bulls
Caleb Johnson, East Preston Pacers
Marcellus Cogswell-Wright, Community YMCA
Kellen Tynes, Community YMCA
Keevan Veinot, Valley HEAT
Erich Heckel, West End Steelers
Ethan Rondeau, St. Margaret's Bay SLAM
Cody Grant, East Preston Pacers
William Veinot, Bedford Eagles
Nikkayo Williams, East Preston Pacers
Alex Muise, St. Margaret's Bay SLAM
Liam White, Fall River Rebels
Demeric Mercer, Community YMCA
Adre Simmonds, Community YMCA
Joseph Fiander, Martyrs
Chase Tynes, Community YMCA
Josiah Simmonds, North Preston Bulls
Ethan Clark, St. Margaret's Bay SLAM
Campbell Colpitts, Martyrs
William Colpitts, Martyrs
Andrew Clark, St. Margaret's Bay SLAM
Alessandro So, Bedford Eagles
Liam So, Bedford Eagles
Eamon Fraser, Martyrs
Mahamad Abukar, West End Steelers
Jonah Mosher, West End Steelers
Ifesinachi Chiekwe, Cole Harbour Rockets
Taevon Downey, Sackville Storm
Jordan Albrecht, Cole Harbour Rockets
Jared Talbot, West End Steelers
Cory Taylor, East Preston Pacers
Jaydan Smith, Community YMCA